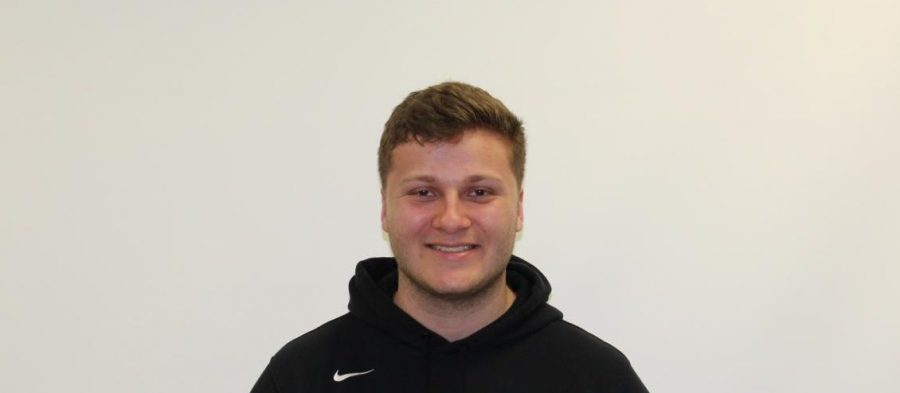 Reid Watkins is a senior at Normal Community High School and a member of the football program. In his first year with the Inkspot, Reid was promoted to Sports Editor. Reid commentates girls basketball, baseball and volleyball games that the Inkspot live streams on YouTube. 
My favorite film is
simultaneously Forrest Gump, Pitch Perfect and Anchorman 2.
The best advice 
I could give to underclassmen is to respect all of your teachers.
Reid Watkins, Sports Editor
May 27, 2020

Sun sets on potential-filled 2020 Ironmen baseball team

(Story/Media)

Apr 17, 2020

Feeney named Lady Iron basketball head coach

(Story)

Mar 21, 2020

Wes to West: Former head football coach to take on Athletic Director duties for Wildcats

(Story)

Mar 16, 2020

Local businesses partner to distribute free lunches amidst closures

(Story/Media)

Mar 11, 2020

Boys basketball: Ironmen come up short in Sectional loss to West

(Story/Media)

Mar 10, 2020

Boys basketball: Regional champion Ironmen play West in Sectional Semis

(Story)

Mar 04, 2020

Girls basketball: Creasey voted team MVP

(Story/Media)

Mar 04, 2020

Boys basketball: Ironmen avoid upset, break playoff losing streak

(Story)

Mar 03, 2020

Boys basketball looks to snap playoff losing streak

(Story)

Feb 27, 2020

Lady Iron basketball: could young core lead to strong 2020-'21 season?

(Story)

Feb 27, 2020

Plangger, White fail to advance in Three-Point Showdown

(Story)

Feb 27, 2020

Plangger, White set for second round of three-point contest

(Story)

Feb 14, 2020

Postseason preview: Lady Iron are set to play Normal West, again

(Story)

Feb 07, 2020

Madison Feeney out; Mann looks to younger sister Sophie

(Story)

Jan 30, 2020

Wrestling Senior Night [photo gallery]

(Story/Media)

Jan 27, 2020

Mann ejected, Lady Iron struggle in loss

(Story)

Jan 10, 2020

Wrestling team adds female competitors to roster

(Story)

Dec 28, 2019

Schneringer out for season after ACL injury

(Story)

Dec 18, 2019

Creasey reacts to game winner over Danville [video]

(Story)

Nov 18, 2019

New look Lady Iron tip-off at Central Catholic

(Story)

Nov 04, 2019

Lady Iron volleball advances to Sectionals; Defeat Moline in comeback win

(Story)

Oct 18, 2019

Photo Gallery: Volleyball celebrates senior night, win over Bloomington

(Story/Media)

Oct 16, 2019

Inkspot Athlete of the Week: Olivia Hartke

(Story)

Sep 24, 2019

Inkspot Athlete of the Week: Anya Weber

(Story)

Sep 17, 2019

Feeney steps down as assistant basketball coach

(Story/Media)

Aug 26, 2019

Tennis court renovation behind schedule

(Story/Media)

May 16, 2019

Pickleball opens NCHS to community

(Story)

Mar 15, 2019

Josh Delgadillo reflects on his high school wrestling career

(Story)

Mar 03, 2019

Video: Students, educators and community members share their thoughts on the rise in teen depression

(Story)

Feb 27, 2019

Girls basketball season ends; team already looking to next year

(Story/Media)

Feb 12, 2019

NCHS grad making original music, finds Spotify success

(Story)

Feb 11, 2019

Video: Staff reacts to district-wide internet outage

(Media)

Feb 07, 2019

NCHS Choir gets Rebirds in rhythm for revenge win

(Story/Media)

Dec 21, 2018

Schneringer out indefinitely

(Story)

Dec 13, 2018

Lady Iron basketball "Feit" for redemption; Charge past West

(Story/Media)

Nov 30, 2018

Lady Iron "steal" win over Champaign Centennial

(Story)

Nov 13, 2018

Lady Iron look to leave their mark

(Story)

Oct 17, 2018

Larger population as positive for students?

(Story)