Girls basketball: Creasey voted team MVP
Sophomore guard Karleigh Creasey was announced as the winner of team MVP voting at the Lady Iron basketball banquet on Tuesday, March 3. Voting for the MVP title was done by players on the varsity level leading up to the banquet.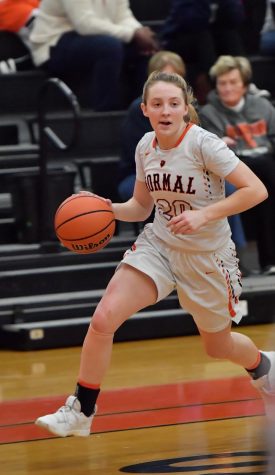 "It means a lot to me that I could make a big impact on my teammates and gain respect from them," Creasey said. 
Creasey averaged 6.5 points, 3.4 assists and 3.2 rebounds for the varsity team while appearing in 29 of their 30 games. 
The standout underclassman was selected as one of three team captains at the beginning of the season, along with Kylee Schneringer ('20) and Mallory Oloffson ('21).
Creasey also took home Second Team All-Conference honors in addition to being named a Big 12 Scholar-Athlete for her efforts during the 2019-20 season. 
"Karleigh is a very hard worker," senior guard Regan White said, "She will do whatever she can to bring the team success, whether it be playing through injuries, communicating or playing great defense."
Despite a solid individual effort from Creasey, the Lady Iron finished 14-16 this season. That's a record that Creasey isn't content with. The Lady Iron's primary ball-handler looks to elevate the team's play by bettering herself during the summer. 
"During the off-season, I'm going to work at being more aggressive on offense and also being a lock-down defender," Creasey said, "I want to be reliable when I'm playing and try to grow to be the best leader I can be."
It's obvious that with her determination, Creasey isn't slowing down. The Lady Iron should be confident in building around her, among other players in their young core, during an off-season that poses a lot of questions for the program's future.
Checkout Creasey's game-winning shot and post-game interview from the Lady Iron's game versus Danville this season.
About the Contributors
Reid Watkins, Sports Editor
Reid Watkins is a senior at Normal Community High School and a member of the football program. In his first year with the Inkspot, Reid was promoted to...
Shae Simmons, Multimedia Editor
Shae Simmons is a senior at Normal Community High School and a fourth-year member of the varsity Iron Dance team. This is her second year working with...