Local businesses partner to distribute free lunches amidst closures
A number of local businesses have partnered to create "FeedBlonoKids", distributing free lunches in an effort to feed local students that are out of school after COVID-19 cancellations. Gill Street Eatz, Healthy In A Hurry and Central Image Car Wraps make up the three primary sponsors, along with a number of other businesses, large and small alike. 
Free lunches are available for pick-up at a number of local locations March 16-31, Monday's through Friday's from 11 a.m. to 1 p.m. All children up to age 18 are eligible for the free lunches.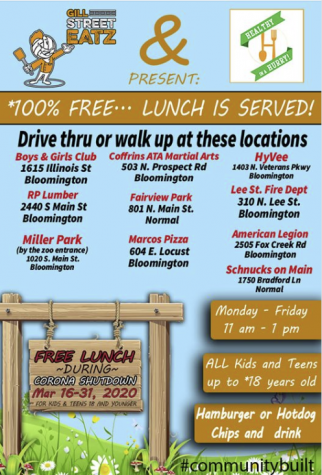 The meals consist of a hamburger or hot dog, chips and a drink. These items are donated by the public or purchased by sponsors. 
Boys and Girls Club, Coffrin's Martial Arts, McDonald's, Kara and Kaylee's Kloset, Hyvee, D.P. Dough, Meijer, Platinum Plumbing, Beer Nuts and the Child Protection Network round out the supporters listed on the FeedBlonoKids website. 
Despite the out-pour of help from local businesses, the FeedBlonoKids mission is made possible by volunteers and donors from the public. Over $50,000 has been raised by over 1,150 people in three days via a Facebook fundraiser. 
Bob Borchears, an employee at Thrivent Financial, took time off during his lunch break to volunteer at the Hyvee pick-up location. 
"I just know that there's a need; in these times it's important that we all come together rather than be separated," said Borchears, who estimates somewhere around 50-60 people had come out to receive food Monday. 
The community is rallying to provide for students who otherwise may have had nothing to eat. To help contribute, there are signups to volunteer at FeedBlonoKids.com or donate on the Feed the Children of Bloomington-Normal due to Corona school closings Facebook fundraiser page. 

About the Writer
Reid Watkins, Sports Editor
Reid Watkins is a senior at Normal Community High School and a member of the football program. In his first year with the Inkspot, Reid was promoted to...