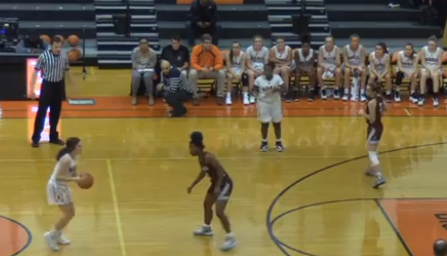 The Lady Iron basketball season came to an end Tuesday, Feb. 18, after falling 51-42 to crosstown rival Normal West.
The varsity team lacked consistency on offense, and their effort on the defensive end was not enough to hold off Rosh Webb (17 points) and the Wildcats.
NCHS was overpowered by the combination of Webb and Olivet Nazarene commit Olivia Demosthenes, who had 11 points and six rebounds in the game.
6'1″ sophomore Averie Hernandez came off the bench for the Wildcats to add eight rebounds to West's stat sheet.
The Lady Iron struggled with injuries this season and ended the year with four inactive players. Kylee Schneringer ('20), Madison Feeney ('21), Jordan Griffin ('22) and Lauren Hlava ('21) were all out for the team's third meeting with West this season.
Despite a disappointing end to the season, the highlight for the Lady Iron was their play in the Big 12 conference. NCHS went 8-2, losing to Peoria Richwoods and Normal West. Intercity and IHSA tournament play does not count towards the team's conference record.
Another bright spot for the Lady Iron was player development. With only two seniors on the roster, several underclassmen had an opportunity to play meaningful minutes this year.
13 players from this year's roster could return for the '20-21 season. However, the girls basketball program in recent years has had trouble retaining players for all four years.
Last season, three of the team's five juniors decided not to return for their senior year. Most notably was Maya Wong, who reclassified to Illinois State to redshirt in her first year with the team.
The program needs to get most, if not all, of the players from this year's team back to see true progression. It has been confirmed that sophomore Paxton Gillispie will not be suiting up for the Lady Iron in 2020 as her family is moving during the summer.
By retaining players through their senior year, the Lady Iron could see more traditional player development at the lower levels. Through the freshman and JV teams, players could grow, and learn the system slowly rather than being thrown directly into a varsity game simply because there aren't any seniors left to play at that level.
Players can develop quickly when they get playing time at the varsity level.  But, a stronger foundation could lead to a higher ceiling. Giving talented players more time at the lower levels of the program could pay off in the long-term for Lady Iron basketball.
There are a lot of questions this offseason, but the Lady Iron should be able to remain confident in their core players. Mallory Oloffson ('21) and Carleigh Creasey ('22) have every reason to be back for next season, after stepping up to lead the squad when Schneringer went down.
While often times players can step away, occasionally new players can come in and contribute to the squad. A pleasant surprise for the team this season was Central Catholic transfer Ivie Juarez. Only a sophomore, Juarez led the team in rebounding with 6.4 per game, while chipping in 6.8 ppg.
The Lady Iron could be set for a bounce-back season after a 2019-20 campaign that left a lot to be desired. A lot of that depends on the talent that they are able to retain and develop over the summer.