Mann ejected, Lady Iron struggle in loss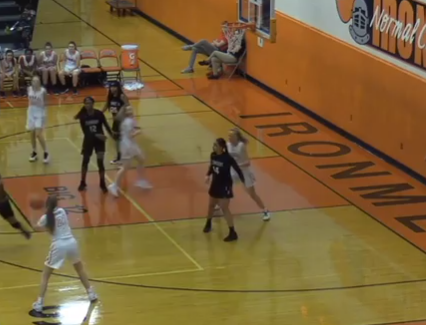 The Lady Iron basketball team struggled in a conference matchup versus Peoria Richwoods Thursday night, losing 51-33. Head Coach Marcus Mann was ejected in the loss, after leaving his bench to address an official on the other end of the court. 
Tempers flared in the third quarter when junior forward Mallory Oloffson locked arms with Richwoods forward Jaida McCloud as they attempted to get a rebound. This came after Oloffson had already caught an elbow from McCloud in the paint earlier in the gam e, and the referees didn't call anything. 
Mann went outside of the coach's box, and past half court, to protest the no calls. Shortly after, Mann received a fairly under the radar ejection.
"Definitely one of the quickest [ejections] I've ever seen," Mann said.
The initial technical and ensuing ejection came one after another, with the referees sending the eight year head coach to the locker room without much of a scene. 
The drama picked back up in the fourth quarter when Richwoods' Hannah Pemberton was called for a technical after a verbal altercation led to her pushing Lady Iron guard Karleigh Creasey. 
"I think it's just two high quality programs that want to do their best to put the best performance on the court," Mann said after the heated matchup. 
All of the commotion came in a game that wasn't much of a contest on the scoreboard. The Lady Iron trailed 45-16 going into the final period. 
The game counts as the Lady Iron's first loss in conference play and extends Richwoods win streak to 10. During the win streak, Richwoods has outscored opponents by an average of 27.5 points per game. 
Mann's ejection makes him ineligible for Tuesday's intercity and Big 12 conference game versus West, per IHSA rules. Look for JV Coach Ms. Chrishaya Dixon to fill in for Mann in his absence during the annual pinkout game for breast cancer awareness.
About the Writer
Reid Watkins, Sports Editor
Reid Watkins is a senior at Normal Community High School and a member of the football program. In his first year with the Inkspot, Reid was promoted to...