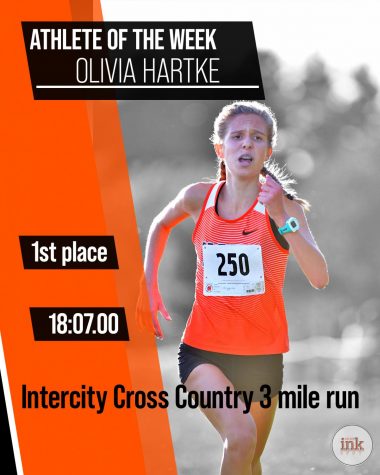 Olivia Hartke ('22) led the varsity girls cross country team to their first Intercity title since 2007. Hartke won the individual title, finishing 42 seconds ahead of second place. Hartke's first-place finish was crucial for the Lady Iron, who squeaked out a victory by only two points over U-High. 
Entering the race Hartke knew she had a shot at winning. She was considered a contender along with U-High runners Lyndsey Wolters and Ella Bittner, who won in 2017 and 2018, respectively. Bittner was a prerace favorite to win, but was forced to drop out during the third mile with a nagging hamstring injury. 
Lady Iron head coach Mr. Tom Patton acknowledged if U-High didn't "lose their number one runner, we're second" in an interview with The Pantagraph.
Nevertheless, Hartke was able to win the individual race by a comfortable margin with a time of 18:07 ahead of Bloomington runner Kaitlin Skeate who finished with a time of 18:49. 
"I'm sure that [Hartke] would have appreciated more competition, she likes to push herself,"  Ms. Amy Scott, assistant cross country coach, said of Harke's strong lead. "But she has established herself as one of the top runners in the area, and I don't think anyone could suggest that she didn't deserve to win." 
Hartke has a strong team running behind her with teammates Liberty Harmon ('21), Lauren Sanderson  ('21), Megan Metz ('23) and Courtney Dage ('20) adding to the team score – finishing 4th, 6th, 10th and 17th.
Hartke's leadership doesn't come from her vocalness with teammates, Scott describes her as "on the quieter side." It doesn't come from just finishing with the best performance.
Instead, Hartke leads through her sheer determination.
"She's very driven," Scott said, "She's going to work very hard and set a good example for her classmates and teammates through her work ethic."
Getting this young roster to continue to produce at a high level is a goal that Hartke views as attainable. 
"We just need to continue our training, listen to our coaches and encourage others," Hartke said. 
The Lady Iron races next in the Big 12 Conference meet on Saturday, October 19 at Peoria's Detweiller Park.