Feeney steps down as assistant basketball coach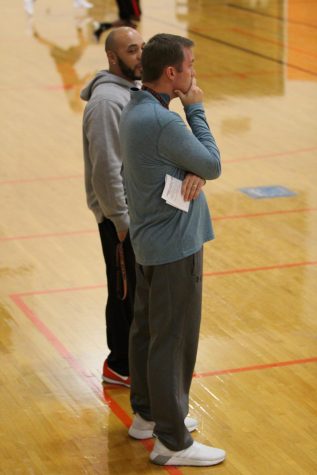 Mr. Dave Feeney stepped down from his position as the girls varsity basketball assistant coach near the end of second semester last year after holding the job for two years.
Feeney was known as a players' coach in his time with the program. He enjoyed the ups and downs that came with coaching. 
"It was fun. It was challenging at times. I developed really good relationships with the kids that I'm really proud of," Feeney said.
His sense of pride is warranted, given the Lady Irons' success in his two years as an assistant. The team went 18-2 in Big 12 conference play, en route to a 45-18 overall record.  
Feeney's resignation left head coach Marcus Mann as the lone varsity-only coach. Both parties share a mutual respect for one another, despite having different views on what was best for the team at times. 
"Coach Mann and I work well together professionally. I do think that at times we disagree on things, and I do think we approach some things differently as far as the vision for the program. Ultimately he's the head coach and it's his program," Feeney said. 
In the days prior to him stepping down, Feeney had a conversation with Mann about the girls program, as well as his impending decision to leave the coaching staff. 
"We spoke about it," Mann said, "he kind of told me what he was feeling, his perception of the program and where we were, and then he was going to take a couple of days to continue to think about it and give me his final answer."
That final answer was one that initially left players disappointed. 
"Obviously, I was very sad because he's a great coach and a great person," Kylee Schneringer, senior, said.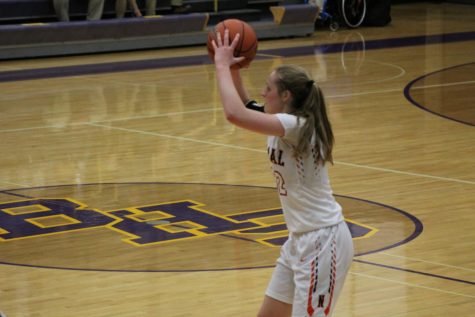 Mann shares the despondency along with his team. He noted that it was clear Feeney made the Lady Iron stronger in his two years with the team. 
"We're definitely sad to see him step away and we know that we'll miss his lasting impact going forward, especially next season," Mann said. 
Feeney's presence on the sideline is sure to be missed, but it may be slightly less noticeable for his daughter. Madison Feeney played well in limited opportunities as a sophomore last season.
"It's not going to affect me as much, because he's still going to be coaching me, no matter what," Madison said.
For coach Feeney, simultaneously coaching and parenting was just another one of the challenges. 
"I'm a parent. It was getting difficult to wear multiple hats. Next year I'll have two kids that potentially will be in the program," Feeney said. 
Feeney's younger daughter, Sophia, is playing on the varsity volleyball team this fall alongside her older sister. 
For Feeney, his next coaching job is just a matter of when and where. It is a rare occurrence for Feeney not to be coaching, after serving as the head girls coach for NCHS from 1999-2007 and then as an assistant for the men's basketball team at Illinois Wesleyan from 2009-2016. 
"I plan to coach again, I don't know if that will be anytime soon necessarily, but I could definitely see getting back into some realm of coaching fairly soon, or I could see myself not coaching while my kids are in school. And then, I could absolutely see after they're out getting back in some capacity."
As for a replacement, Coach Mann has been conducting interviews "over the last couple weeks" with a hope to have a coach hired by the end of this week. 
About the Writer
Reid Watkins, Sports Editor
Reid Watkins is a senior at Normal Community High School and a member of the football program. In his first year with the Inkspot, Reid was promoted to...