Sun sets on potential-filled 2020 Ironmen baseball team
The outcome of the 2020 Ironmen baseball season will always remain an unanswered question at Normal Community. With a roster featuring three Division I commits, the team, filled with potential, had their shot at the state tournament, their entire season taken from them.
This year's roster planned to make their mark defensively, starting with pitching. With Division I commits RHP Mason Burns and RHP/SS Griffin McCluskey shouldering much of the load on the mound.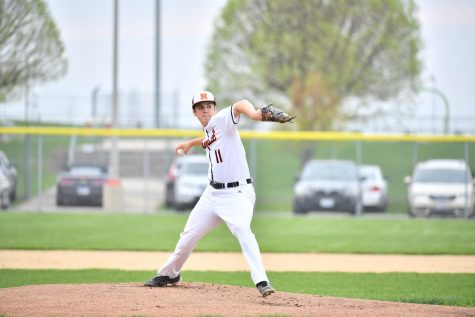 "Mason Burns and Griffin McCluskey were going to lead our staff. As long as we kept them fresh and healthy, they were going to carry us," Head Coach Ryan Short said of the Illinois State and Valparaiso commits.
Burns took home First Team All-Conference honors in 2019, striking out 64 batters in 38 innings, earning a 1.66 ERA.
McCluskey sat-down 70 batters in 44 innings en route to a 2.07 ERA and was also a key contributor at the plate last season, hitting .344. When he wasn't pitching, McCluskey was defensively sound at shortstop, posting a fielding percentage of .973.
Tommy Heideman, another Illinois State commit, was set to lead a promising group in the infield from his first base position. Offensively, the 6-foot-2, 190-pounder looked to bring power to the middle of the Ironmen.
Having individual talent is important, but playing together, as a single unit, makes a baseball team great. That was something that the three Division I players knew and took seriously.
"The best thing about those three guys is they didn't necessarily lead as individuals; they lead collectively," Short said. "In the months leading up to the season, they were talking to each other and working with the other guys as far as ways to stay together, be cohesive and develop that good chemistry."
The lead set by Burns, McCluskey and Heideman was an easy one to follow.
"It's hard to slack off when your best players are your hardest workers. And in those three guys, that's what we had," Short said.
"It's hard to slack off when your best players are your hardest workers. And in those three guys, that's what we had," Short said.
The team had been working year-round individually and, for a couple of weeks in practice, as a team. All of this was to reach a common goal: build on what they accomplished last year, and make a run in June.
"My main focus was winning at least a regional and making it far in the playoffs since we came up short last year," McCluskey said.
However, in a matter of days, players and coaches came to understand that their season would be affected by the coronavirus.
A two-game homestand versus Pekin and East Peoria was canceled first, followed by the annual spring break trip to Alabama.
"As we got over the sting of not being able to go to the Gulf Shores for our usual spring break games, then it became the realization that we're not going to be able to do anything," Coach Short said.
The significance of the annual trip to Gulf Shores, Alabama, can not be understated. Many players consider it the highlight of their year, including McCluskey.
"Down on the beach with everybody, and just in the hotel rooms, it was a really good experience," McCluskey said.
Senior Dylan Tracy, who Short said would anchor the outfield this season, agreed.
"My favorite memory was going to Alabama. Just the whole week. We got to play baseball, got to go to the beach together and just have fun as a team," Tracy said.
Outside of Burns, McCluskey and Heideman, the six other Ironmen baseball seniors don't have college sports in their future. More than a trip to Alabama, a shot at advancing past the Regionals, they missed out on their last season of baseball.
"I worked really hard to be where I was. I thought we could've done well as a team," said Tracy, who will study business at the University of Iowa in the fall. "It kind of sucks not being able to hang out with teammates again, be in the dugout, just all that experience of baseball. I never got a chance to do what I was hoping to do."
Tracy is just one of countless high school athletes who had their athletic careers cut short. There will always be the question of "Just how good could this team have been?"
But for the players, it's about the memories. From the dugout chatter and bullpen banter, the long road trip rides and hotel stays, these are moments that they missed out on. And will never have the opportunity to get back.
About the Writer
Reid Watkins, Sports Editor
Reid Watkins is a senior at Normal Community High School and a member of the football program. In his first year with the Inkspot, Reid was promoted to...