Boys basketball: Regional champion Ironmen play West in Sectional Semis
The boys basketball team beat Yorkville 50-34 in the Regional Championship hosted by Pekin on Friday, March 6 to advance to the Sectional Semi-Finals. Senior guard Griffin McCluskey led all scorers with 18 as the Ironmen won their first Regional Championship since 2015.
The focus now turns to the first game of Sectionals, as the Ironmen are set to square-off against Unit 5 rival Normal West tonight at 7 p.m., again in Pekin. NCHS has gone 1-1 against the Wildcats this season.
NCHS Head Coach Dave Witzig won't be thinking of the rivalry surrounding tonight's game, as the teams meet for the first time in the Sectional round of the IHSA State Tournament.
"We're trying to stay alive and keep our season going," Witzig said, "The rivalry gets thrown out the window a little bit because we're trying to get to Friday night for the Sectional Championship game."
As for his game plan going into this win-or-go-home matchup, Witzig is going to be relying on his defense. The Ironmen allowed an average of 37.0 points in their first two postseason matchups. Stopping West will start on the defensive end.
"They all kind of shoot the three," Witzig said, "Guys like Alec McGinnis and Evan Hutson have stepped up really big for them so we gotta make sure not to give them any free looks."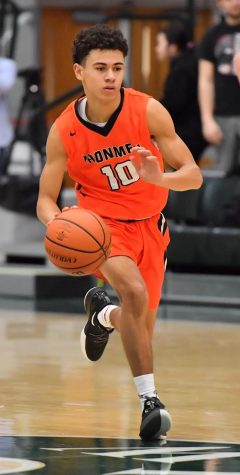 The Ironmen will hope to see a better outing from sophomore guard Trey Redd, who is coming off of a 1/7 shooting performance versus Yorkville Friday. Redd's partner in crime, fellow sophomore Zach Cleveland, should be looking to control the boards again after grabbing 10 rebounds in that game.
While there may appear to be some added weight in this Sectional Semi-Final game, as Witzig said, "It'd be bragging rights for eight months and then it starts all over again with Intercity." With a survive-and-advance mentality, the Ironmen have their priorities straight for playing in the postseason.
"The main thing for us tonight is to do our jobs and earn the right to play in the [Super] Sixteen."
About the Writer
Reid Watkins, Sports Editor
Reid Watkins is a senior at Normal Community High School and a member of the football program. In his first year with the Inkspot, Reid was promoted to...