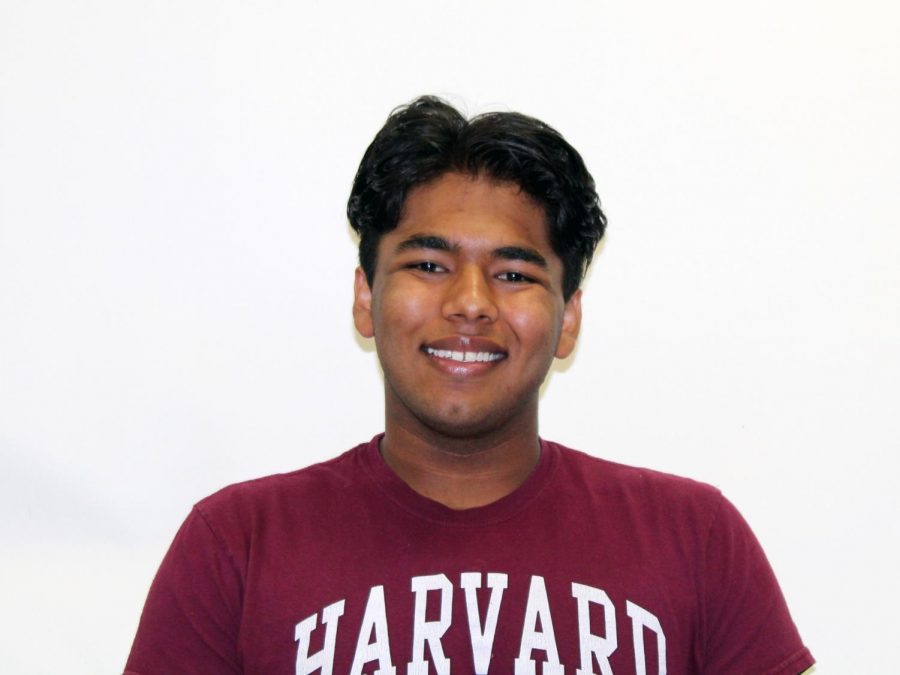 Mantra Dave is a senior at Normal Community High School and the captain of the varsity speech and scholastic bowl teams, as well as a four-year member of the varsity Ironmen tennis program. This is his first year working as a staff reporter for the Inkspot. 
My guilty pleasures
include
The Bachelorette
and
The Good Place
.
A book that moved me was
Dr. Paul Kalanithi's
When Breath Becomes Air
.
I love
to watch Tottenham Hotspur FC and listen to Hozier.
Mantra Dave, Staff Writer
Jul 15, 2020

Adding a closet into the MIX: ISU alum on radio hosting during COVID

(Story)

May 26, 2020

Senior Showcase Galleries

(Story)

Apr 24, 2020

Q & A: Seniors Speak Up

(Story)

Apr 21, 2020

IHSA cancels spring tournaments

(Story)

Apr 17, 2020

Q & A: Senior Athletes Speak Up

(Story)

Apr 12, 2020

Sewing for safety: Coe family combats coronavirus

(Story)

Apr 12, 2020

Q & A: Seniors Speak Up

(Story)

Apr 08, 2020

Q & A: Seniors Speak Up

(Story)

Apr 06, 2020

IHSA remains hopeful for return of spring sports seasons

(Story)

Apr 01, 2020

5 throwback movies to watch

(Story)

Mar 26, 2020

5 Things to do to keep your mind active

(Story)

Mar 25, 2020

Let, second serve: Iron Tennis warms up for new challenges

(Story)

Mar 25, 2020

Coach Short, Ironmen seniors offer opinions ahead of baseball season

(Story)

Mar 21, 2020

5 podcasts you should be listening to

(Story)

Mar 20, 2020

College Board announces AP testing revamp

(Story)

Mar 16, 2020

Coronavirus Update: Impact on Unit 5 and NCHS [3/16 11:35 a.m.]

(Story)

Mar 13, 2020

NCHS' Favorite Teacher: March Madness

(Story)

Mar 09, 2020

Coding meets community

(Story/Media)

Feb 26, 2020

Teachers in Training: Making a Mart-in the classroom

(Story)

Feb 15, 2020

Earth Club's reusing and repurposing: Valentine's Day

(Story)

Feb 14, 2020

Insightful incisions: peering into the Cadaver Lab

(Story)

Feb 12, 2020

Movie Guide: How to spend your Valentine's Day

(Story)

Feb 11, 2020

Project with purpose: 'Gotcha Boxes' look to make impact

(Story)

Feb 08, 2020

Teachers in Training: Working in Spata of challenges

(Story)

Jan 30, 2020

Teachers in Training

(Story/Media)

Jan 23, 2020

Teachers in Training: Aske-ing the right questions

(Story)

Jan 12, 2020

Protecting the planet: Earth club springs into action

(Story)

Dec 18, 2019

Computer Science Honor Society boots up for first year

(Story)

Dec 09, 2019

Decoding a dual degree: An inside look at the Computer Science Associate's Degree Program

(Story)

Dec 09, 2019

Lady Iron swim & dive seniors cap off their athletic careers

(Story)

Nov 18, 2019

ACT acts on policy; announces change

(Story)

Nov 08, 2019

Well-run season: Girls cross country finish campaign; Hartke onto state

(Story)

Sep 26, 2019

2019 Battle of the Bands

(Media)