Well-run season: Girls cross country finish campaign; Hartke onto state
Olivia Hartke ('22) qualified as an individual for the IHSA State Cross Country Finals and will line up at Detweiller Park on Saturday, November 9 against the best runners across the state. Hartke ran an 18:54:30, finishing 21st and advancing as one of the top 10 individuals from November 2's 3A Sectional.
Hartke is the torch-bearer of the Lady Iron cross country team, which has enjoyed a successful 2019-20 season. Senior Courtney Dage ('20) called the team's success "the best in my time on the team." Intercity was the race to remember for Dage, especially since it was NCHS' first win since 2007. 
Taking home the Intercity title by two points over U-High, winning the Decatur Macarthur Invitational, and placing 2nd in the Big 12 Conference are highlights of the season for Assistant Coach Ms. Amy Scott, who called the campaign "very successful."
The group's strong season has not been without challenges, with Scott specifying that the team has struggled health-wise. The team has pushed through these issues with a strong sense of camaraderie, and Dage said that team spirit helps in "persevering through the tough spells of the season."
Hartke has struggled with low iron levels, which are crucial to maintaining endurance over long runs, while number two runner Lauren Sanderson ('21) – who was one second away from qualifying for State – has dealt with shin-splint issues. 
Injuries haven't gotten the best of the Lady Iron though; the team's spirit hasn't wavered. On the day of Sectionals, Sanderson wrote each of her teammates an uplifting letter, and throughout the year, she has been "in many ways, the heart of the team," according to Scott, who noted that her positivity and encouragement were key parts of the team's sense of togetherness. 
Other team leaders included Reagan Spaid ('21), who could always be counted on to lead warm ups, as well as Brianna Conley ('22), who helped destress the team's when things got tense. The team's seniors – including Dage and Sheri Stewart ('20) – led by example, taking younger runners under their wing and helping make them feel at home on the team.
Beyond the podium, cross country has made a lasting impact on the Lady Iron's graduating seniors. For Stewart, some of the memories that stand out the most include "the bus rides with my team, warm[ing] up together, get[ting] to hang out together, listening [to] weird music [and] just doing all the crazy stuff that we do." Similarly, Dage noted that though "running six miles every single day is really tough, the girls make it worth it." Over her three years, the "lasting friendships [she's] made are what [she's] going to take the most from cross country."
For Hartke personally, the season has seen many triumphs, including a new personal record time of 17:50:00 and the individual title of Intercity Champion. According to Scott, the Lady Iron's number one runner's success comes from "working hard and [being] mentally tough." 
Despite accomplishing her goal of qualifying for state, not every part of her season went as planned. Due to the health issues that Hartke has faced, Scott noted that the sophomore has had to "adjust her goals" for the season.
However, Hartke is "really excited" to test herself against the state's best this Saturday, noting that she plans to focus on "pacing [herself] better during the third mile." For Scott, this weekend's focus is on "[getting] Olivia [that] state experience so that next year when her iron is back up she can go after an all-state medal and perhaps even our school record."
Looking to next year, Scott has big goals for her team. As long as health is on their side, having such a young team means that the team is only going to grow stronger going forward. As such, the team's primary goal is to qualify for State.
Scott believes that the future "looks bright," with "all [but one] of our top 9 runners coming back [and] some exceptional talent coming up from the middle schools." With things looking promising going forward, Scott believes that the team should be "the strongest we have had for quite some time."
About the Writers
Mantra Dave, Staff Writer
Mantra Dave is a senior at Normal Community High School and the captain of the varsity speech and scholastic bowl teams, as well as a four-year member...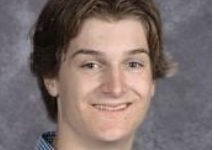 Eli Schneider, Senior Staff Reporter
Eli Schneider is a senior at Normal Community High School and in his third year of working with the Inkspot as a Senior Staff Reporter. Eli plays varsity...