Speakers booming. Fans screaming. Music so loud you can feel it in your bones. 
From Taylor Swift's Eras Tour to Nov. 12's Driver Era concert at ISU, we live in an era where concertgoing often means braving ear-splitting volumes.
But for Community teacher Mr. Stefen Robinson, a concert doesn't require triple-digit decibel levels or sound systems drowning out roaring crowds to make an impact. 
All it takes is a local bookshop.  
Robinson hosted his first "quiet concert" at Bobzbay Books Nov. 11—a soft, low-volume performance for the ten to twenty customers passing through the bookstore that Saturday afternoon.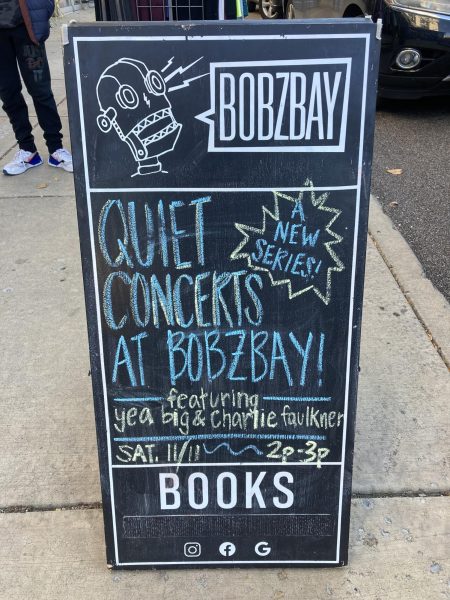 Inspiration for the concert struck when Robinson's prior performance venue of two years closed. 
The lowkey show, similar to those of the experimental music ensemble Robinson sponsors at Community, was completely improvised. 
But composing music on a whim is still purposeful.  
"I'm interested in music done with intentionality," Robinson said. "Whether that's a loud thing in a theater or a quiet thing in a bookshop, I'm interested in people intentionally producing, performing and engaging with sonic art."
When music is performed at "a volume that requires active listening," Robinson said, it demands that performers and audiences make deliberate choices rather than simply allowing music to "blast in the background." Without the thundering bass or screaming fans of a 'normal' concert, Robinson was able to "incorporate different textures and sounds that are only possible when things are quiet." 
Robinson opened the performance using medicine balls with small chimes inside, a percussive instrument that proves "extremely difficult to mic and amplify."
Soon, the audience itself became an instrument—the line between the creator and receiver of music blurred.
 "Somebody ruffling a book or somebody at the checkout," Robinson said, "is producing sound that becomes a part of the performance." 
Senior Charlie Faulkner, who performed in the first concert of the series alongside Robinson, said the ambiance made the 40-minute performance more understated than the work he would normally produce with the experimental music ensemble. 
Typically, Faulkner said sets that include Robinson playing the clarinet are "all over the place." When the group performed a song Faulkner wrote based on jump rope sounds, he said, it wound up "sounding like an aggressive rave." 
At the bookstore, Faulkner's guitar samples and response to Robinson's percussion, acoustic guitar and "long, breathy notes" on bass clarinet evoked something different. 
"I feel like [Bobzbay] is going to be really cool for softer, peaceful sounds that we take for granted," Faulkner said.
Seasoned musicians like Faulkner and Robinson welcome the chance to explore new sounds. 
Faulkner has been playing guitar since he was 6, learning to "cheat" at most instruments over the years. Robinson has "never not been in a band" since he was 13—bluegrass bands, rap groups and even bass-playing in a gospel choir filling his resume. 
"I've played, publically and on record, more instruments than I can count," Robinson said. 
It was more recently, though, that his music started developing a more personal resonance—and Robinson is "not the same person" he was two and a half years ago when he began his first regular series. 
"I am making music that is expressing my relationship with the universe," Robinson said, "in a way that I have not been able to up until now."
For the experimental musician, the point of performing isn't playing for "massive crowds." It's about "exploring, creating music in a different way in a different environment." 
"I'd rather make music for four people who are actually listening," Robinson said, "than for a room full of people who are partying." 
And that's exactly what he got at Bobzbay: an intimate crowd willing to discuss unique finds—music, books and even books about music—that Faulkner said only a locally-owned bookshop can provide. 
"You don't get the same feeling going into Barnes & Noble," Faulkner said.
Although Bobzbay won't see a repeat performance in 2023, Robinson plans to provide opportunities for other local artists to share their music at the bookshop next year. 
In the meantime, Robinson said, he hopes others can learn from the 'quiet concert' mentality. 
"I would encourage everybody to try to practice more intentionality with the music that they make or consume," Robinson said, "not just flippantly feeding your eardrums with AI-created playlists."