The Experimental Ensemble, an avante-garde musical group, offers Community's musicians a unique outlet for creative expression. 
After launching in 2022, the Ensemble wrapped their sophomore season with April 15's performance at the McLean County Museum of History and the release of "Budget Cuts," their second album.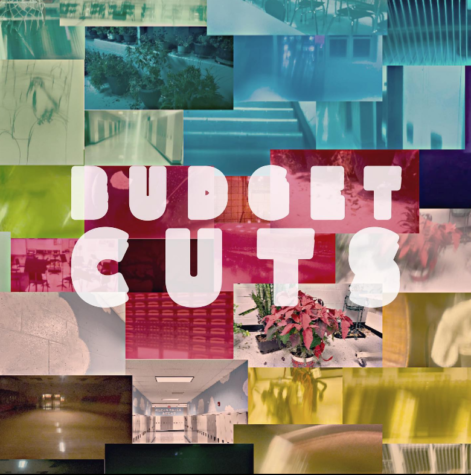 The group provided another avenue for expression for senior Lilly McClelland, a violinist in the school's orchestra. 
McClelland, one of the group's founding members, said the Experimental Ensemble granted her freedom she didn't have as an orchestra member.   
"It's an environment," McClelland said, "where none of the music is stuff that you're forced to play."
In orchestra, "you're playing as the composer intended," McClelland said, "but for [the Experimental Ensemble] you're playing what you're intending."
The freedom of not having to follow notes freed McClelland to express her emotions. 
Emotions are the driving force behind the Ensemble's music, McClelland said. 
The music emanates "from your body wholly, from your mind and your emotions. 
"Being able to express your emotions through the music is really big," the senior said.
The creative freedom the Ensemble offered McClelland has helped her to grow as a musician. 
"I've learned to listen to myself and how I want to play more," McClelland said. "It's about following your own vision and letting whatever comes out, come out."
The group began with the vision of Mr. Stefen Robinson as a place, he said, where students could explore musical ideas they didn't even know they had.
It took root, Robinson said, aiming "to explore composition, performance and recording" in unusual ways, things uncommon "in most 'popular' forms of music or traditional music programs."
Where orchestra and band are about uniformity, playing notes as the composer intended, matching pitch, volume and speed, the Ensemble is about empowerment.  
"Robinson reiterates over and over… not [to] play notes," McClelland said.
When McClelland first joined the group, she said, "I never understood what he meant [but I realized] he means play your instrument as an instrument, not as the pieces that are coming out of it."
When the Ensemble began, McClelland, who has been playing violin for 12 years, saw it as a way to reunite her interest in her instrument. 
"I want[ed] to get away from classical music a bit… When I first started playing violin in elementary school, I did 'fiddling.' I wanted to get back to that because that was more expressive."
No notes, time signatures, defined structure, just playing, experimenting. 
"Part of what makes the music interesting is that it's never the same twice, McClelland said. "We've played the same piece multiple times before, but every single time [we] play it, it's never the same. 
"I think that's kind of how experimental jazz is supposed to be. It just flows through you once, and you're never gonna hear it again. That's what makes us so special."
Senior cellist Matthew Beigie saw something special in the group when he covered them for the Inkspot last year. 
After observing the Ensemble for his article, Beige, who has been playing cello for nearly a decade, decided to join. 
"I got really into what they were trying to do," Beigie said. "It [opened] me to the idea that music doesn't have to be so rigid."
The Ensemble, Beigie said, taught him to play in new and unusual ways. 
It "taught me to do stuff that I wouldn't normally do," Beigie said.
The Ensemble offered Beigie, a standout performer recognized by the Illinois Music Education Association, other opportunities to challenge himself creatively.  
This year, Beige created the artwork for the group's album—a collage of photographs shot around Community Photoshopped together.  
"It's exploiting the school through a lot of ways that aren't necessarily normal," Beigie said. 
"Budget Cuts," the group's second album, did the same—using the school itself as a musical instrument: the sounds of students walking through hallways, the rattle of paper towel dispensers, the ringing of bells, announcements over the P.A. system… 
The Ensemble's focus, using "unconventional structures, improvisation, and nontraditional sounds and techniques," has drawn together an eclectic array of musicians, members from the school's orchestra and jazz band, classically trained and self-taught musicians.  
"It is about connecting with others through music," McClelland said, "because that's such an intimate experience—to be able to interact… in that way."
"It's a very cool community [where] everyone can talk to each other, and you [can] talk about music all the time," Beigie said. 
Joining the conversation this year was junior guitarist Charles Faulkner.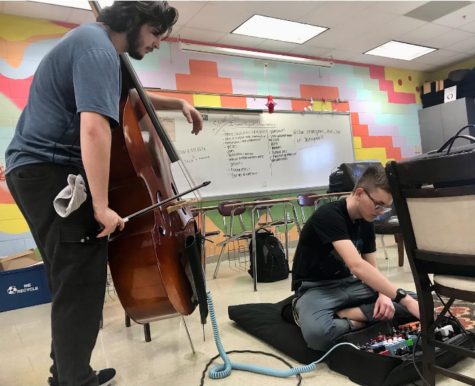 "I like to…create music a lot," Faulkner said, "but I feel like this plugin… [allowed me to] apply my ideas in different contexts."
Without such a collaborative space, Faulkner said, his music would have been more traditional. 
"I feel like those ideas would have gone different directions without [this] kind of outlet," Faulkner said. 
While recording "Budget Cuts," Robinson prompted Faulkner to "just go," to play without thinking or planning. 
"He was right," Faulkner said, "because it ended up forcing me to do things that I wouldn't normally do, and I'm really proud of what I ended up doing."
Next year, Faulkner looks to continue expanding his horizons. 
While the junior experimented with guitar effects for "Budget Cuts," he wants to "branch out" more in his senior year.
"I did a lot of guitar-based things," Faulkner said, "here [were] sections of songs where I mess with effects, effects pedals and stuff." 
Next year, "I think I'd like to [have] the opportunity [to] play with more synthesizers," Faulkner said. "[I'll] feel free to do whatever instead of sticking in my comfort zone instrumentally."
Branching beyond comfort zones is critical to how the Ensemble creates its music. 
One of the group's seniors, John Nguyen, learned how to use the Moog synthesizer, an electronic instrument that creates different sounds using electrical signals to generate audio frequencies.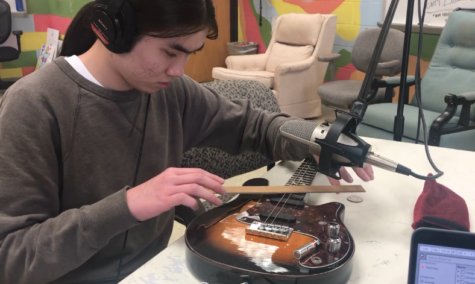 "Johnny's very decisive," Beige said. "A lot of times when I'm playing, I do random stuff, but John is very decisive."
That combination of decisiveness and randomness, diverse skills and interests, and musical backgrounds contribute to the Ensemble's creative growth.  
"We played a game recently [where] we all took turns sharing music," Faulkner said. "It sparked lots of new ideas and new things that came to be in our final show because of [the senior's] creativity."
New—that's an essential idea at the heart of the Ensemble, new challenges, new styles of play, even new instruments. 
This year, McClelland picked up the bass and trumpet for the first time. 
"I can't read the notes for it, but I can play them, and that's what matters," McClelland said. "It doesn't need to sound perfect, but as long as you're making sound, it's okay."
"As long as you're making sound, it's okay"—an apt way to summarize Community's Experimental Ensemble.