Hungry ghosts: Community's Experimental Ensemble
An unconventional teacher attempts to satisfy his insatiable musical appetite with a new musical group: The Normal Community High School Experimental Ensemble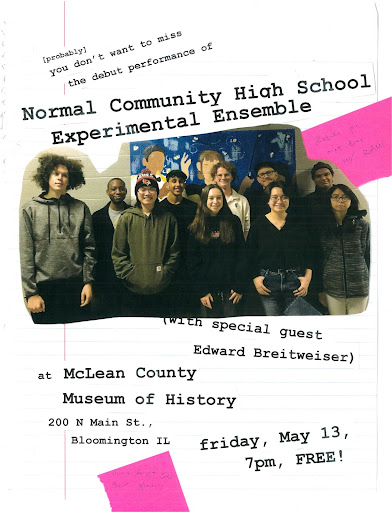 Behind her instrument — a harmonium — the girl sits, her legs curled behind her.
She shifts her weight in concert with her moving hands, pushing and pulling the instrument's bellows.
Even before she rests her fingers on the keys, a soft, almost inaudible air emanates to open the song.
Beside her, the bassist's purple nails, their polish chipping from wear, chase the frets.
Across the circle of assorted instruments — a mandolin, a violin, a trumpet, a cello, an electric guitar — the percussionist probes his drum set, creating what can only be described as noise.
Noise, seemingly accidental but increasingly meticulous.
Among the disharmony, a cacophony of sound builds.
Flute and saxophone; piano and snippets of radio.
The musicians improvise — experimenting with the limits of their instruments.
The unorthodox prelude — discordant chords, more noise than notes — morphs into a cascade of melodies, disorganized as a dozen instruments add to the fray.
At the height of the chaos: a "1-2-3" count-off establishes a beat – unifying the instrumentalists.
This maelstrom of sound is "Serene" — a soft, melodic jazz arrangement.
Mr. Stefen Robinson's project, The Normal Community High School Experimental Ensemble, makes the disjointed jointed, bringing together musicians who traditionally would not play together and challenging the way they think about music composition and their instruments.
"The ensemble," Robinson said, "aims to explore composition, performance, and recording in ways not typical in most 'popular' forms of music or traditional music programs.
"For example, playing instruments or non-instruments in unconventional ways or performing compositions in ways that stretch the original intention of the piece."
Following the May 6 release of their album, a collaboration with Robinson's "Yea Big" project, "The Teeth of My Thinking Machine," the ensemble performs their first full live set Friday, May 13, at the McLean County Museum of History (streamed here).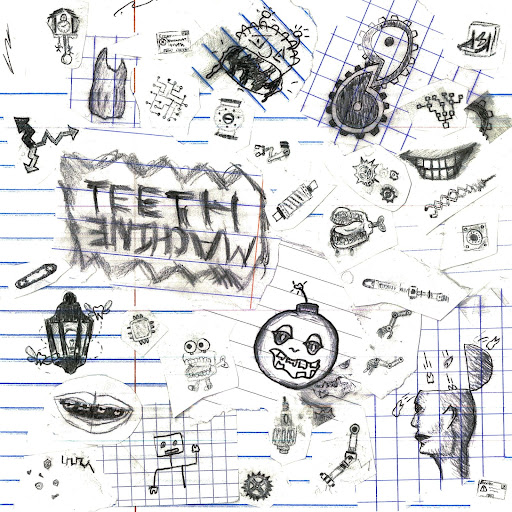 Accompanied by Robinson and Mr. Zach Sargent, the eleven student performers' debut show is a collaboration with local non-profit pt.fwd, a program that organizes contemporary music and sonic arts performances. 
In founding the ensemble at the start of the school year, Robinson said he hoped to nurture a space where students could explore musical ideas that they may or may not have known they even have.
"I suppose [experimental music] is making music in a way that pushes out from what is familiar toward that which is unfamiliar," Robinson, who plays bass clarinet and assorted percussion instruments with the group, said. "And that may be…, the physical technique or the manners in which we play the instruments."
Robinson sees playing an instrument as a box of possibilities, encouraging ensemble members to play at the edge of their boxes — the most individual sounds unique to their instrument.
"Within that box, I have fun. But you can only do what's in that box," Robinson said.
Robinson believes that an instrument's box of possibilities shrinks as a musician becomes more experienced with their instrument. The more they play it, the less willing they are to think creatively about how they could stretch the limits of the sounds it can produce.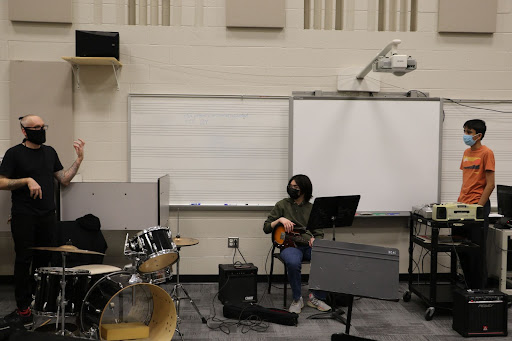 It is a musician's duty, Robinson said, to continually discover new ways to utilize their instrument.
The ensemble's co-director Zachary Sargent said that the ensemble doesn't just exist for veteran musicians with "a proficient background." There is a place in the group for inexperienced performers, those with less musical background knowledge — and less rigid ways of looking at music.
"We just want students that want to be a part of playing music, period," Sargent said.
Halfway through the year, the ensemble's novice bassist, Lilly McClelland, began to pluck her first notes on her new instrument.  Veteran violinist Audrie Schuller returned to the techniques she used when first picking up her instrument years ago.
Despite the experience gap, both play outside their standard boxes– thinking about the possibilities of the instrument in new ways.
The Experimental Ensemble provides an opportunity for any level of performer to play together — a space where novices and veterans can collaborate without criticism or judgement, a space that encourages creativity.
Robinson "allows students to be themselves and express themselves," Sargent said. "If you want to play, you have an avenue, a safe space, an environment to be creative."
That creativity, that willingness to express emotion, for Robinson and Sargent, is the only prerequisite to join the club.
Or even playing an instrument.
"Expression, feeling can be incorporated into music," Sargent said, if you express your feelings, "you can learn to play an instrument.
"There are many masterful musicians that can't read music. Take someone like Jimi Hendrix — in my opinion, the greatest to ever look at a guitar — he couldn't read music. You can play an instrument and not need to read music."
But ensemble members need to want to express themselves.
With some members, like McClelland, approaching their ensemble instruments for the first time, Sargent's idea resonates throughout the group.
Accompanying each of the performers is a dynamic range of musical tastes, lived experiences, passions and interests.
Diversity which Robinson uses to the group's advantage in improvised break-out groups of two to four musicians.
The members split themselves into pairs of nontraditional groupings of instruments.
Ranging from soft ballads of love, to grunge-jazz blends, to simply noise, all the groups are equally ear-catching in their own way, unique to their build of personalities and instruments.
Each group will perform a five-minute piece improvised on the night of their first full set.
Through each "experiment"– whether it is a few members or the whole group, planned or improvised, purposeful or accidental — Robinson believes the group builds an appreciation for sound. Experimenting with unconventional sounds and unconventional ways of organizing that sound will make it more familiar — or rather make one appreciate the unfamiliar.
The key to this new appreciation: exposure — a prelude which, for Robinson, began in middle school.
Music long sat at the forefront of his mind, but Robinson said his interest was "ineffable;" he could not find the words to describe it.
The inability to find the right words to express himself might be what drew Robinson to music in the first place.
"If I had words to express these things, I wouldn't make music," Robinson said, "I would write books."
But instead, he has been writing music since elementary school.
"I remember being a little disheartened that my friends didn't want to sing with me," Robinson said.
At Community, the ensemble offers something to students Robinson didn't always have in school — an informal way to connect with other kids interested in what he was.
While his friends wanted to play football at recess, music drew Robinson in.
"Robinson and music are forever intertwined," Sargent, who has known Robinson since he was six, said. "That dude bleeds music."
Growing up in Kankakee in the '90s, it seemed to Robinson that everyone was in a band. But, his knack for the saxophone couldn't transfer to the punk rock scene dominating his area.
"When I was in like seventh grade I started playing the guitar," Robinson said. "After I had joined a band."
Without any training, Robinson just assumed he could play it.
He made the same assumption about the mandolin, the banjo, the drums, the bass clarinet, and on and on till he racked up a list of instruments he couldn't count off on his fingers.
With each new instrument Robinson picked up, he expanded his box of possibilities, each new instrument offered a new way of thinking about his art. Each new instrument pushed the edges of what music could be a little further out.
Spanning from studying Indian classical music to collaborating with a member of Arcade Fire, Robinson's passion has yet to be defined, but this time by choice.
The refusal to be boxed in can be seen in the name of his current musical project.
"'How big is the paper towel roll?' 'I don't know… it's about yea big,'" Robinson said, holding his thumb and pointer finger an inch from each other. "It's a very vague measurement."
His solo work, Yea Big, also serves as a "vague measurement" of his art.
"I don't want to be pinned down," Robinson said, "I don't want people to be like, 'Oh he's the guy that produces avant garde hip hop, or he's the guy that plays free improv bass…' I don't want to be the guy that does any of that stuff."
Rather than defining his passion by his many accomplishments such as his tour through the Midwest, Robinson collaborates with those like Chicago's Experimental Sound Studio — dedicated to the creative exploration of sound — and those members of the Experimental Ensemble who share his dream of innovation.
"I want to be a 'he's the guy that just does what he wants to do because he's interested in sound, and wants to be limitless with [sound],'" Robinson said.
Robinson's philosophy is that he doesn't have to perfect his instruments to achieve the sound he wants. In fact, Robinson doesn't believe he plays any of his instruments particularly well.
"I play all of them well enough to be able to explore them and to be able to make music with other people," Robinson said.
His motivations behind the club cater towards new experiences.
"It's not just like a totally selfless, altruistic endeavor," Robinson said. "This gives me the opportunity to explore music in a way that I don't get to do anywhere else."
The Normal Community High School Experimental Ensemble adds to his ever-expanding resume of experimental groups including: Yea Big, Disorganizer and the Shoshin Trio.
"It's like the hungry ghosts… if you're a ghost, metaphorically speaking, you can't ever really feed yourself," Robinson said. "So if you're a hungry ghost, you never satiate your appetite. I'm like a musical hungry ghost."
About the Writer
Matthew Beigie, Staff Writer
Matthew Beigie is a junior at Normal Community High School and is involved in the school orchestra. This is his first year working with the Inkspot, and...