Coming from Carnegie
Seniors Jonah Beer, Jacob Kilby, and Mike Romero have been involved with the music programs within Unit 5 for nearly eight years, earning their spots in the top band at NCHS while also performing with the marching band. In late March, they bid goodbye to their time with the band programs through a performance at the world-renowned Carnegie Hall in New York City.
For these three, however, Carnegie was just the beginning of their careers as they prepare to continue their music in college, despite planning to major outside of the art.
The performance at Carnegie began with a soundcheck; there was no audience, just the band filling the stage, playing to a the hall Romero described as "empty and beautiful."
The NCHS Wind Ensemble performed second among five bands from across the country. With a three-piece performance, the hours of practicing and perfecting since the beginning of the school year earned the band a silver rating from the judges.
"After [the performance] is when it hit me. The number of people that performed there – the people like John Lennon – had performed where I had,"  Beer said, who played percussion with the band. "To have been given the chance and privilege to experience that once in a lifetime experience of standing where some of the best musicians had performed was truly humbling."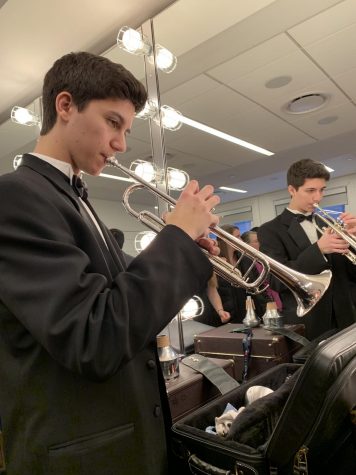 Going Back to Normal
The seniors have one final performance with the band, but this time, they return to the NCHS stage in May.
"And now, it goes back to normal. Not down, but just back to normal,"  said Beer . "Everyone is agreed on the fact that Carnegie was the end of our band years, so for right now, we're just killing time before the bigger and better come."
Although their time as an ensemble is coming to an end, Beer, Kilby, and Romero prepare for their own bigger and betters.
Bigger and Better
Romero's plans are already under way as he will be playing trumpet with the Phantom Regiment, a world class drum and bugle corp, this summer. Living on Western Illinois University's Campus for a month, the corp will practice for fourteen hours a day while they learn their field show competitions.
"Around mid-June, we travel around the country competing with other drum corps," said Romero. "We finish at Lucas Oil Stadium on August 10 for DCI world championships."
Romero's audition gave him an invite to join the group earlier in the year. Since then, he has been working on music every month for the corp. Following this, he will be attending the University of Illinois to study aerospace engineering and auditioning to play with one of the jazz bands.
Unlike Romero, Kilby will be taking the summer off from marching band. However, he'll rejoin this fall with the Marching Mizzou when he begins attending the University of Missouri to study nursing.
"[I do it for] the love for music and [it's] a fantastic social click," he said. He hopes to be able to focus on the mellophone and French horn, as well as pick up bass on the side.
Rather than joining a music group, Beer – who recently took home the music department award – will be creating his own by forming a jazz band at Illinois State University where he plans to study exercise science. He will also partaking in private opera lessons for his voice.
Although music is not the award-winners major, Beer still has major plans for his life revolving around his musical abilities.
"I want to get signed by a record label and make it big. Concerts, tours, big stages, bigger bands, jazz everyday, and the ability to do what I love for a living (with solid pay),"  Beer said. "I think it would be fun and I think I could make if if I could just get in that spot at the right time."
Rather than music, Beer chose exercise science as his career for the financial security it offers.
"Within the trifecta of elements that you should aim to hit while pursuing your life, the three being money, happiness, and how good you are at it, I am hitting the first and last one," said Beer. "Music will never leave me. Impossible. Don't count on it. The forms that it will take in my life will change, be different, and may not even be the right "forms". All I know is, is that when it comes down to it, music has given me everything I have, everything I know, and has made me who I am today."
While some may view the performance at Carnegie Hall as the peak for the careers of these young musicians, it is rather merely a stepping stone to what these seniors will accomplish musically. Although none of the three will major in the art, music is still something they all plan on pursuing on their own terms.
"So in the end, my goal is not around music: it is with music. Music [is something] I plan to carry on wherever I may go, and use to keep my head on the ground and my attitude up, even if it won't work all the time," said Beer. "I'd be lost without music and to lose that would be to lose myself. Music is who I am."