Is Jacob Sartorius the next big hit?
Social media today makes it incredibly easier to become famous. Kids, as young as 12, are charting on iTunes all the time – emerging artists like Cameron Dallas, Baby Ariel and Jacob Sartorius. Most of these young stars are the product of YouTube, Vine, Musical.ly, or Instagram. Social media creates a stage for these performers to find their audience.
While it isn't just social media allowing these kids a creative outlet – with some starting their careers on TV shows like America's Got Talent or The Voice. NBC's The Voice recently  lowered its age requirement to only 15, allowing more artists the chance to showcase their talents.
Brennley Brown (15) used this opportunity to make it on to Blake Shelton's team and is currently one of the show's top 8 contestants. Millennial technology is making it much easier to get artists' names out and establish a following. Brown, before appearing on The Voice, performed a cover of Willie Nelson's "Blue Eyes Crying on the Rain'" on her Youtube channel which drew roughly 26,000 views.
Jacob Sartorius is using this social media audience to his advantage.
Sartorius's single "Sweatshirt", debuting on Youtube, was the center of jokes and memes this past summer. Some teens and young adults found the song and its meaning to be hilarious, making Sartorius the laughing stock of the summer.
But this reaction did not deter the artist.
The 14-year-old has released The Last Text EP, featuring seven original songs, plus a remix of his previous single, "Sweatshirt." Despite, being the butt of jokes, the song struck a chord with some listeners.
This EP is composed of upbeat pop songs, all in the same style of "Sweatshirt." Sartorius is touring the US and Australia, with The Last Text World Tour kicking off in June, to support the album released back in January. While not a "world" tour in every sense of the word – with only 14 dates in on two continents, this is still more than most 14-year-old artists may ever accomplish. Jacob's success stands out because of his age, but maybe it is his age which draws in his listeners? But it does draw them in, The Last Text EP peaked at 6 on the Billboard Music Chart's Social 50 chart. The artist's official website describes his rise: "With an irresistible voice, magnetic charisma, and that instantly recognizable coif, Jacob Sartorius built an undeniable and unique connection with millions of fans worldwide in 2016—which only grows stronger by the day." That connection seems to be paying off, despite others' less receptive take on the artist.
The budding pop artist began posting regular lip-syncing videos to Musical.ly, an app that allows users to lip-sync to popular songs, in February of 2015. This media usage helped create a place for Sartorius to "connect" with those fans.
Lip-syncing lead to his lips singing, with the first original song "Sweatshirt," a pop song about that awkward junior high-type love. "Sweatshirt's" success was surprising, because of the artist's age and humble social media start; it reached the Hot 100 charts (at spot 51) in the U.S and Canada.
As a social media influencer, Jacob's music is not too influential, not too groundbreaking. It is reminiscent of anything that Justin Beiber would have released back in 2010 or 2011. That being said, Beiber was 14 in 2010, and look how things turned out for him. Sartorius's music is fast paced, his lyrics cheesy, sounding like a 14-year-old wrote them. But 14-year-old did. The lyrics are complete with lines about emojis in "The Last Text" ( "Send you that face with the heart eyes") and references to Kylie Jenner's lips in "Bingo" ("with them lips like Kylie, so fine").
Jacob described how his interest in performing began in an interview with WBUR Radio Boston: "It started in my bedroom, with making content. It started with musical theater, from performing every day. It really built kinda fast. I started in my bedroom with zero followers, and I grew it to something that I didn't expect with a lot of hard work, and I just have always wanted to be where I am right now."
I wasn't planning on being one of those followers, before listening to the EP. I was not expecting to be impressed by by Jacob, aware that Jacob was the center of many jokes, his music had been referred to as cringe worth.
However, after a full listen, I will admit, he has some talent. Sartorias  has made himself known, put his name out there in a very tough industry and developed a fan-base.  While I may respect the artist, that doesn't mean I am a fan of the EP.
The songs lyrical content is just too cheesy. A few songs feature some good background music, but the lyrics just ruin it. For example, "Love Me Back"  – the song features a really like-able beat but the  junior high-esque lyrics undo all the enjoyability of the beat.
"Bingo" has a catchy tune, some clever rhymes like "I just hit the lotto, she hit the follow." But, this is ruined by lines like: "Can I pick you up, meet your dad?"- just overly corny and cliche.
Tracks that are absolutely detestable are "Last Text" and "Jordans."
In "Last Text" Jacob sings about his crush being his last text he sends before falling asleep. He even goes as far as to reference specific emojis in the song. I guess I see where he had some nice, or even cute, ideas but his delivery of them was just weird. In "Jordans," you can probably guess, Sartorius sings about Jordans – the Nike shoes. Jacob  references famous basketball players throughout history, dreaming about being in their shoes – wanting his crush to "wear his jersey."
Sartorius's vocal sound are similar to Justin Bieber in his early days (circa 2009-2011) – the high pitched, falsetto voice. In everything from the tunes of his songs, to his voice, he mimics Bieber. But mainly, Sartorius does this in the theme of the songs – these are all songs about girls.
It is disappointing that all of the songs on this particular EP are fast paced and heavy on the beats; I kept expecting the next song to be some sort of acoustic or slower paced song, but that never came. Sartorious does not allow himself to be intimate or fully emotional. He has not developed what people look for in Bieber today – heart. Then again, this is only Sartorius' first EP, maybe his first album will be filled with more variety.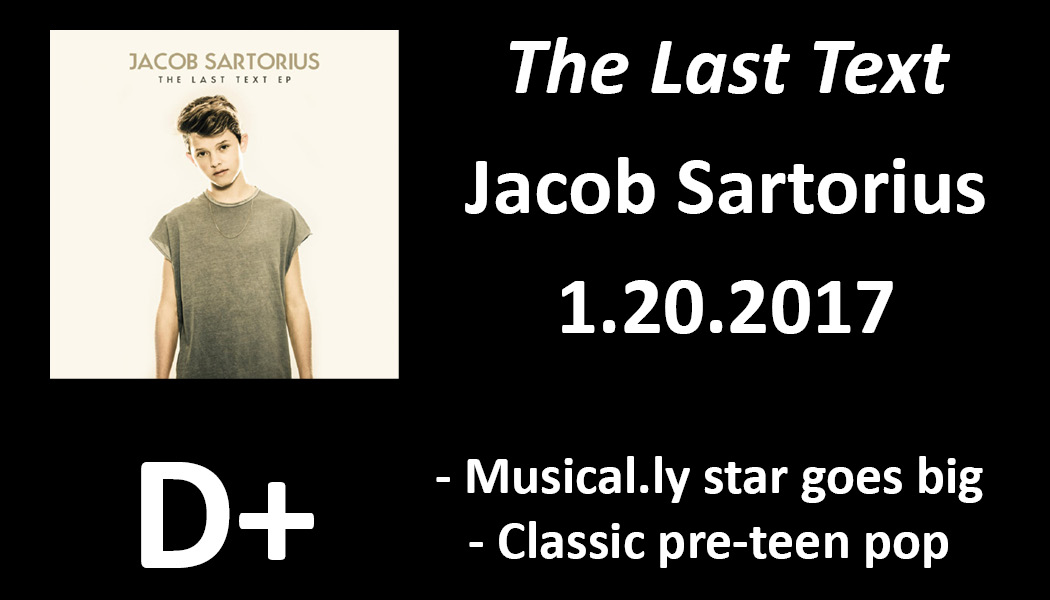 The Last Text  deserves a D+. Young fans of Vine, YouTube, or Musical.ly who listen to mainstream pop will definitely enjoy this type of music that Sartorius has put out; as he is particularly popular with the younger ladies. For this demographic, I'm sure they are thrilled to have an EP from Jacob. However, this EP is not for anyone who isn't a fan of pop that tries a little too hard.
While I respect the artist, Jacob Sartorius, I'm just not a fan of his music at all. I do think that the jokes about his song "Sweatshirt" are hilarious, but I wouldn't be surprised if this kid turned into the next Shawn Mendes, or Cameron Dallas, or even Justin Bieber. All three of those stars are the product of social media, what's saying Jacob Sartorius won't be the next?
The Last Text EP is available for download on iTunes or Amazon for $6.99 or to stream on Spotify.
About the Writer
Elyse Schneider, Staff Reporter
Elyse Schneider is a senior at Normal Community High School. This is her first year involved in the Inkspot as a staff reporter. At school, Elyse is...