The 2023-24 Ironmen boys basketball roster is the most talented team head coach Mr. Dave Witzig says he has coached in 29 seasons.
And the Hall of Fame coach has seen some talent on his way to a 488-232 record in his 25 years helming the Iron.
In the 2010-11 season, Witzig led an Ironmen squad that finished 4th in the IHSA 4A State Tournament, falling to the Warren Township Blue Devils 55-43 in the State Semifinals.
Four years later, Community was back in the Final Four, knocking off top-ranked Chicago Simeon 64-50 in the Super Sectionals, before advancing to the State Title game with a win over Geneva.
Community would finish the 2014-2015 season as State runners-up, losing the Championship game 57-40 to Stevenson, a team ranked 18th in the nation.
While the 2015 roster wouldn't boast future NBA stars like Stevenson's Jalen Brunson, that squad, Witzig said, is the best team he has coached in his career so far.
They excelled at "everybody knowing what they're supposed to do," the coach said, knowing "who was supposed to shoot," when to pass, when to shoot…
This year's roster, ranked atop the AP Class 4A preseason poll, Witzig said, "is by far more talented than" the 2015 team.
But, Witzig said, sometimes the most talented teams aren't the best.
Only time will tell as the Ironmen head into the first contests of the year.
"We'll see," Witzig said.
With three athletes over 6-foot-9, seven listed over 6-foot-4, the team has drawn a lot of media coverage.
"We're one of the tallest teams," Witzig said. "Our height is what stands out to everybody. Every team that looks at our roster knows how tall we are."
While that height is a "major strength," the heightened attention it brings is not.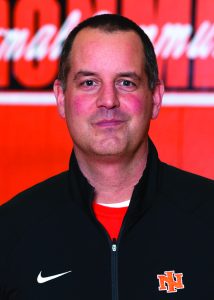 Ahead of Nov. 20's season-opening Intercity matchup versus the Bloomington Raiders, Witzig said, "There's been a lot written about" the team.
And while Witzig is no stranger to playing in meaningful games in March, no stranger to coaching great teams, this season is different.
"I don't have a lot of experience dealing with this much attention," Witzig said.
That attention, the coach is concerned, might serve as a distraction.
How the team's talent can handle distractions, Witzig said, is "going to be really important."
But Witzig said he won't let it take away from what the team is trying to do this season.
"We're really going to talk about staying humble and working hard," Witzig said.
And what are the Ironmen trying to do?
Improve on last season's 20-14 record, build on the end-of-season momentum that saw Community win nine of their last 11 games, and win a fourth straight Regional title.
And extend their run into the playoffs, after last season's 68-51 loss to the Moline Maroons, the eventual 4A State Champions, in the first round of Sectionals.
What the Ironmen are trying to do is win.
And win big.
Witzig is looking to the team's three returning starters–Braylon Roman, Jaheem Webber and Dexter Niekamp–to help facilitate those wins.
Webber and Roman are the veteran leaders on varsity–seeing time two seasons ago on Community's 33-2 team.
Webber "was a backup as a sophomore," Witzig said, who "played a key role" on the 2021-22 record-setting team.
That role only grew last season as Webber was called upon to fill the shoes of graduate Zach Cleveland.
Last year, the 6-foot-10 Webber led Community in scoring, averaging 13.3 points per game.
Webber's height helped the Wright State Commit put up some tall numbers for the Iron–scoring 362 points in the paint, tallying a team-leading 52 blocks and 276 rebounds as a junior.
Webber's offensive production came despite immense defensive pressure.
"Last year," Witzig said, "he was double and triple-teamed nonstop."
Roman, two years ago as a sophomore, was the Iron's "sixth man," getting "great experience as a backup point guard," Witzig said.
That experience translated into success last year, running the point for the Iron.
Roman was second in scoring for Community, not far behind Webber, averaging 13.1 points per game, with 315 on the season.
The 6-foot-4 senior, despite missing 10 games with a broken hand, finished the year second in points and assists, racking up 84.
The guard posed a defensive threat, too, leading the team in steals (29) and deflections (33).
On offense this season, the D-I recruit will see his role shift, but Witzig said, "The ball is going to be in his hands a lot."
Teams, the coach said, will be keying on Roman and Webber this season.
"Everybody knows they're going to be back," Witzig said.
But opponents don't know how the duo has improved over the off-season.
The pair enter the season stronger and in better shape than last, Witzig said, "ready for a great senior year."
Someone one "no one is really talking about," Witzig said, is Niekamp.
The three-sport athlete and Illinois State Football commit enters his senior season flying under the radar, which should be hard for the 6-foot-4, 230-pounder to do.
"He scored a lot in the post last year, he gets offensive rebounds," Witzig said.
Niekamp's 157 rebounds were good for third on the team, and when he was on the floor last season, Community outscored opponents by 118 points.
He is a versatile contributor who has success on both sides of the court.
Last year in the Regional Championship, Witzig said, "he guarded a 6-foot-9 guy who is going to U of I, and did a great job."
This season, Niekamp might have a little different job, as his role looks to shift with the team's new look roster, Witzig said, but he looks to be a big factor in the Iron's success.
"When opponents line up and play us man to man," Witzig said, "they're going to put somebody on Dexter that won't be able to stop him."
"Other team's best guards are going to be on [transfer] Niko [ Newsome] and Braylon [Roman]," Witzig said. "The best big guys are going to be on the big guys. And so then, who's on Dexter?
"He's going to have a mismatch, so we're definitely thinking about ways we can use Dexter," the coach continued.
"We all know what he can do," Witzig said.
Just what did Niekamp do last season?
As a junior, the forward finished fourth in assists (56) while tallying 179 points, good for sixth on the season stat sheet.
"He's going to be a problem for people," Witzig said.
The veteran trio of Webber, Roman and Niekamp all played meaningful minutes last season for the Ironmen. Only graduates Robbie Brent, Owen Pogge and Brady Starkey saw more time on the court than the three.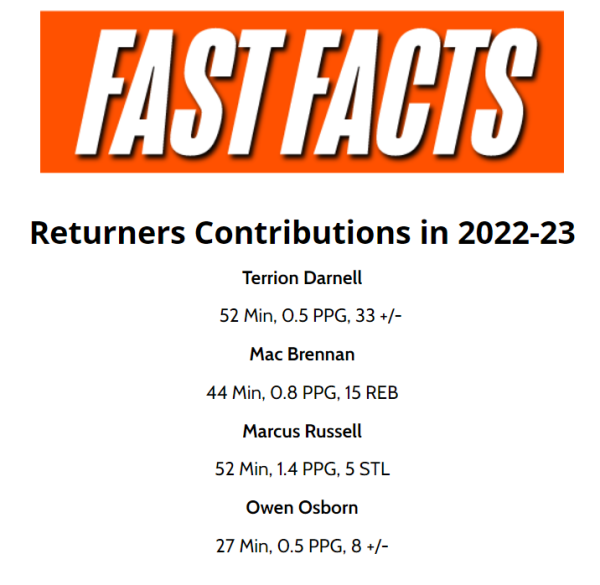 This season, they are looking to build on the success the team saw during the final stretch of last season.
After opening up the 2022-23 campaign 3-7, a stretch where Roman was sidelined, Community went 18-6 to finish the season on their way to a third straight Regional title, losing back-to-back games just once during the run.
Despite the slow start, Witzig said, the Iron "just kind of kept grinding out and ended up having a really good finish."
Replacing the over 2400 combined minutes of graduates Brent, Pogge and Starkey would seem like a tall task if not for this summer's headlines: the return of 6-foot-9 Noah Cleveland, the transfers of Craig "Niko" Newsome, Jr. and junior Connor Smith.
After receiving an offer from Illinois State University as a sophomore, Cleveland elected to sit out his junior year, citing a need for "a break from the game."
After a season off, Cleveland is back–and has his sights set on a winning season with the Iron.
"We're expecting to be really good and make a State Championship run," Cleveland said.
Two seasons ago, Cleveland split time between the sophomore and varsity rosters.
In just 160 minutes of sophomore game-play, he averaged 10.5 points a game, recording 54 rebounds and 10 blocks.
Despite the year off Community's court, Cleveland didn't take the year off.
"He's really good," Witzig said. "He got stronger. When he wasn't playing basketball last winter, he was lifting weights."
The result of pumping Iron in the off-season will pump up the Ironmen this season, as Cleveland is in better shape than the last time he stepped on the court for Community, Witzig said.
Cleveland's return is bolstered by the addition of 6-foot-6 guard Niko Newsome, Jr.
Last season, the Bloomington High School transfer averaged over 20 points for the Raiders.
A three-year varsity player at Bloomington, Newsome scored 959 points for purple and gold.
Newsome and the other additions' biggest challenge might not be Xs and Os, but their place in the Ironmen system as they look to fill a void left by Brent, Pogge and Starkey.
The graduates, Witzig said, "were just good program guys. They played [as] freshmen, sophomores, juniors… all the way through."
"They came to everything," Witzig said–years of kids' camps and summer programs, and embodied the Iron program's "culture."
It is "definitely" a concern, Witzig said, "when you add people from different places… It'll be a bit of a learning curve."
"I've never had anyone average 20 points in a season on my team," Witzig said. "We try to spread it out and get different guys" scoring opportunities.
"We have star power," Witzig said. "A lot of guys can score, and there's only one ball, so we have to share it."
That doesn't seem to be an issue, as Newsome, Webber and Roman all played off-season travel ball together.
"Over the summer," Roman said, "we definitely built a lot of chemistry playing."
Smith joins the Iron as a transfer from Rantoul, where he started as a sophomore.
The 6-foot-1 junior has a three-pointer in his arsenal, something the Iron might otherwise lack.
Last season, Starkey (52), Brent (43) and Pogge (22) led the team in threes, combining for 116.
Among current Ironmen, Roman is the Iron's biggest threat beyond the arc, sinking 21 long-range shots last year.
Smith will have a familiar face in Kobe Walker, as the two played together this summer.
Walker logged 364 minutes on the floor last season as a sophomore. In limited action, the 6-foot-9 center was fifth on the team in points with 195, finishing second in both blocks (14)  and rebounds (183) behind Webber.
While the highly-touted Ironmen head into this season with eyes on a deep playoff run, they must first conquer a challenging regular season schedule.
That starts with Big 12 play.
The conference, Witzig said, is "a basketball conference."
Last year, the Ironmen finished 3rd in the Big 12 Conference with a 7-3 record, behind Peoria Manual (21-10, 9-2) and Normal West (19-15, 8-2).
Community will see West in the final game of the Intercity tournament on Nov. 27.
West, Witzig said, "is always a battle."
The Iron face the Rams on the road Dec. 8, a team, Witzig said, that is "always competitive."
Another conference obstacle comes Jan. 12, when the Iron face Peoria Richwoods, and the Knight's 6-foot-10 Rutgers commit Lathan Sommerville.
Outside of Big 12 action, too, the Ironmen will be tested, facing opponents like Thornton (14-12) on Dec. 16 and Rock Island (21-13) on Dec. 19
"Our non-conference schedule is really awesome," Witzig said.
That schedule features invites to five shootout tournaments.
"I think that'll make for a really fun season because we're battling some of the best teams in the state," Witzig said.
Those teams include a nationally ranked Metamora (34-2) team, as Community will face the defending 3A State Champions at the Midwest Crossroads Shootout on Feb. 3 at Normal West High School.
"Who knows" where the Ironmen will be in March, Witzig said. "It'd be great to make a long run."
But one thing the coach knows for sure is "it's going to be a fun winter here in our community."
Community opens up the season Monday, Nov. 20, facing the Bloomington Raiders in the Intercity tournament. The season tips off at 6 p.m. at Illinois Wesleyan's Shirk Center.
You can catch the Inkspot's livestream broadcast of that contest here.