Marielsie: Missed the mark
Pumpkin and I have a love-hate relationship. 
Pumpkin bars? Adore them.
Pumpkin pie? Despise it. 
When Starbucks released its fall offerings this year on Friday, Aug. 30, the Pumpkin Cream Cheese muffin intrigued me. 
Despite my questionable relationship with pumpkin, my stance on Starbucks is clear. 
While some call my love of all things Starbucks an addiction, I simply call it good taste. 
So, as a Starbucks aficionado, I figured, after nearly a decade on the chain's seasonal menu, it was finally time to order the Pumpkin Cream Cheese muffin.
I was filled with anticipation when I lifted Starbucks' trademark brown and green bag from the mobile order counter. 
I was eager to bite into what the coffee chain advertised in the past as "moist," "perfectly spiced" and "richly spiced," to taste the combination of the cream cheese filling and "caramelized" pepitas they called "a delightful balance of salty and sweet."
That feeling soured when I removed the muffin from its brown paper concealment.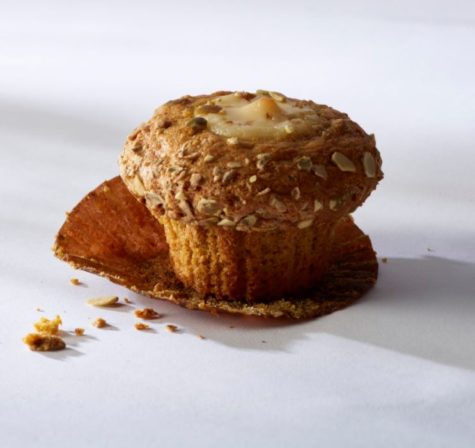 Had I not ordered online, I would have rethought my order. I would have seen the muffin in its true form under the glass display case's lighting.
Maybe I would have gone with another seasonal offering like the Pumpkin scone?
I was conned by convenience.
I felt betrayed – by a muffin.
The green pepita seeds had me doubting the safety of the snack (were they supposed to be that color?).
A misshapen glob of cream cheese in the muffin's middle didn't help the product's presentation in the slightest. 
The muffin's appearance was, well, underwhelming.
At least the muffin part of the baked good looked normal? This thought placated me slightly. 
When I cautiously went in for that first bite, I realized that the sad-looking muffin had some redeeming qualities. 
The bread was moist! While lacking in pumpkin flavor, it had the advertised spongy texture one looks for in a muffin, a texture that contrasted pleasantly with the crunchiness of pumpkin seeds.
The seeds themselves had a pleasing warm toasted note. 
And yet, there was nothing that left me wanting to come back for more.
Nothing world-changing, nothing mind-blowing. Just… decent. 
Would I get it again? 
No. 
Would I recommend it? 
Probably not, unless you are a die-hard Starbucks fan wanting to try all their products. 
The Pumpkin Cream Cheese muffin is an average experience that requires no fanfare or excitement. If you're not seeking to sample each and every one of Starbucks products, save your money. 
It is better spent on one of the millions of other pumpkin spice products on sale for "a limited time only."