Avani: Missed the mark
I could bask in that perfect pumpkin scent of fall-flavored food every day for the rest of my life. It's the first thing I look forward to when the blankets come out and the leaves start to turn.
When the opportunity arose to start the Sweet Spot column with Starbucks' seasonal Pumpkin Cream Cheese muffin, I was filled with anticipation — even forgoing breakfast to ensure my stomach was ready for the burst of fall flavor coming its way.
Marielsie walked in holding that unmistakable Starbucks paper bag like a prize.
She set it down in front of me, and I could imagine the absolutely wondrous delight hidden inside. A delight which Starbucks describes as a "spiced pumpkin muffin topped with sweet cream cheese filling and a sprinkling of chopped, spiced pepitas."
And then she opened it.
An unnerving beige muffin top, flecked with pale green seeds, greeted me.
The first words that came to mind – unappealing and unappetizing.
The muffin was misshapen and discolored – like it needed a little more love in the oven.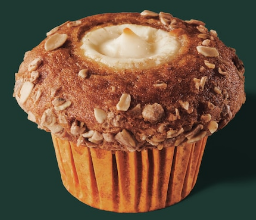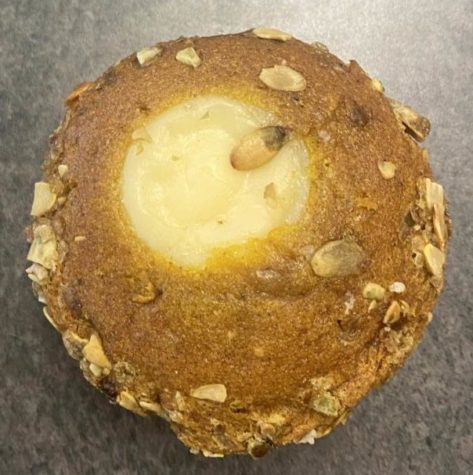 I had been catfished by an image online.
What I expected to be a bounty of fall flavor was a fall failure.
Oh – and there in the middle of the muffin's top? An unremarkable, unmemorable, undersized dollop of cream cheese.
The only saving grace from my first impression was the faint aroma of spiced vanilla vaguely emanating from the muffin – an underwhelming presence that was reflected in the muffin's taste.
I questioned why this flavorless food even had pumpkin in its name – it was severely lacking in anything reminiscent of fall food.
The toppings, cream cheese and pepitas — green shell-less pumpkin seeds, further detracted from the muffin's overall quality, creating a dysfunctional blend of awkwardly paired flavors.
The muffin's lone redeeming quality was the moistness of its base – a mediocre quality that far from justified the 345 cents spent on this lackluster product.
So, for all of my fellow fall food enthusiasts looking for some seasonal snacks – don't waste your time.
My advice?
Wait until the cafeteria starts selling pumpkin bars for half the price instead. Because if you think this review was bad – know that the muffin was worse.