After finishing last season with an eight-game win streak, the Normal Community boys basketball team looks to carry that momentum into the 2021-22 season. 
The Ironmen, led by 23-year coach Mr. Dave Witzig, opened the 2020-21 season 4-5, suffering four of those five losses by a one possession margin. 
"We had a crazy start to the crazy COVID season," Witzig said. "Then we just got on a roll."
The late-season surge generated excitement for this season, which will feature "the strongest team we've had, from the first guy to the 14th," Witzig said.
Witzig's high praise for the roster's depth carries weight, as he has led two different teams to the IHSA State tournament, most recently the Ironmen were the 4A runner-up in 2014-15. 
The team's most significant strength isn't its depth, though, Witzig said, it is it's "senior leadership." 
Seniors Zach Cleveland, Trey Redd, Crofton Perry, Tyler Dwinal, and Bloomington transfer Famious French have played at the varsity level since their sophomore seasons. 
Cleveland and Redd earned All-Conference honors last season, while Cleveland, a Liberty University commit, was named to the Illinois Basketball Coaches Association All-State Team. 
Cleveland averaged a double-double, totaling 20.5 points and 12.1 rebounds per game while also posting the lowest turnover percentage among Community's returning players. On the defensive end, he blocked 2.1 shots per game.
Redd topped the stat sheet in assists (5.2 per game), steals, and three-point percentage while averaging double figures in the points column. As a point guard, Redd also finished second on the team in rebounds.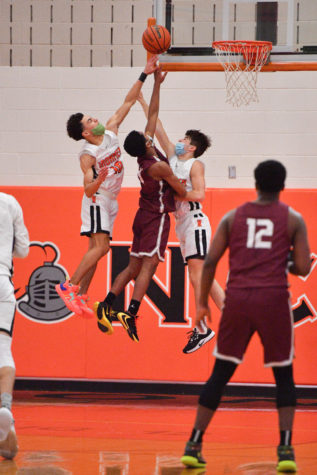 "Most teams when we show up are really going to try and stop Zach and Trey," Witzig said, "so we're going to have to find some other guys who are going to score and contribute in other ways."
Crofton Perry figures to be one of those contributors. 
"[He] has really gotten stronger, and he's a great defensive player," Witzig said. "He's one of those guys people don't always watch that closely, but he's playing unbelievable defense on the other team's best scorer, so I am looking for him to really take some big steps this year."
When looking for players to step up, Witzig might have to crane his neck, as the team has five players 6'5" or taller. 
Sophomore Jaheem Webber heads the group, listed at 6'8'' and 255 pounds. 
"When we come running out of the locker room, we're going to look huge, even our guards," Witzig said.
He expects opponents to combat the Ironmen's size by "pack[ing]" the paint, which will force the Ironmen to take threes. After shooting 28.1% from behind the arc last season, Community will look for more long-range consistency this year. 
The Ironmen get the ball rolling with the Intercity Tournament at Illinois Weselyan's Shirk Center, where Community will attempt to defend the trophy they won at the last Intercity tournament in 2019.
 The Ironmen follow an identical Intercity schedule as the Lady Iron, tipping off against Central Catholic on Nov. 22 at 6 p.m before facing U-High Nov. 26 at 7:30 p.m.