Heat check: Lady Iron basketball looks to build on last season's achievements
Community head girls basketball coach Dave Feeney didn't plan on measuring last season's success with wins and losses.  
His aim, Feeney said, was to "establish what this program stands for . . . even if we don't win every game." 
The Lady Iron must not have heard the message. 
Winning every game is exactly what the Lady Iron did when the varsity roster took the court. 
The team finished the 2020-21 season 11-2, suffering two losses when the JV team played up after the varsity players were forced to quarantine.
With the cancelation of last year's IHSA playoffs, the Lady Iron ended the season with the Big 12 Conference tournament championship title, defeating Danville 45-27.
The victories came despite an abnormal season, including the quarantine and a shortened offseason, not ideal scenarios for a team transitioning to a new head coach. 
Last season, said 1st team All-Big 12 point guard Karleigh Creasey ('22), everything was "brand new" — the circumstances, the coach, the schedule, and the team's strategy.
This season will test the Lady Iron again in brand new ways. 
The team lost its two leading scorers and rebounders in Mallory Oloffson and Ivie Juarez, with Oloffson graduating and Juarez moving out of district. 
"We're not really going to be able to fill the void honestly," Creasey said. "It's just going to be a completely different setup."
Without a player over 6'0'' on the roster, Creasey said the team will "stick to our own strengths and not try to … force players to be someone that they're not," playing small ball with lineups featuring guards at the 4 and 5 positions.
The team isn't just lacking size but experience. Junior Sophie Feeney ('23) and Creasey are the lone returning starters; Paige Walker and Creasey are the only seniors on a roster that includes seven sophomores.
"It's just going to make those younger girls have to transition to playing varsity a little bit quicker," Creasey said. "They definitely can do it."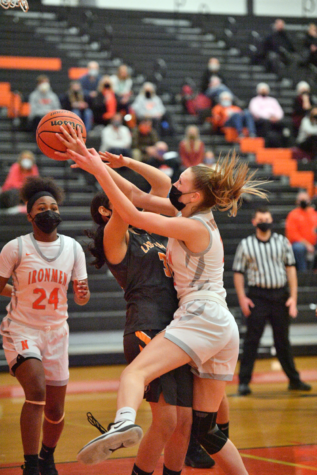 The schedule presents another challenge. Unlike last season, most of this year's opponents are non-conference. Since the 2017-18 season, Community has a .857 winning percentage in Big 12 conference games versus a .531 winning percentage in non-conference games. 
To have success, Community will look to replicate the same defensive intensity it displayed last year, as they held opponents to a school record-low 30.5 points per game. 
"We're basically … playing defense how we wouldn't want to be guarded ourselves," Creasey said. "We're just trying to be annoying in the best way possible."
The Lady Iron open the season against non-conference opponent Central Catholic in the Intercity tournament. 
Creasey said winning Intercity is one of the team's goals this season, as Community has not won the tournament outright since 2017. 
The Lady Iron tip-off against the Saints on Monday, Nov. 15 at Bloomington High School at 6 p.m. before facing U-High Friday, Nov. 19 at 7:30 p.m.
About the Writer
Jonah Kramer, Sports Editor
Jonah Kramer is a senior at Normal Community High School and participates in Best Buddies, FBLA and cross country. This is his second year working with...