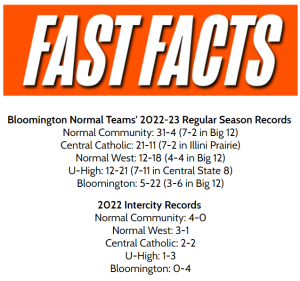 The girls basketball team tips off their season looking to win a third straight outright Intercity title when they take on the Bloomington Raiders tonight. 
The Raiders enter the contest with a new head coach after going 5-22 on the season and 0-4 in last year's Intercity tournament. 
Community and BHS tip off at 6:00 p.m. at University High School, as this year's tournament features a modified format with each game played at a neutral venue to eliminate home-court advantage.
The Iron haven't lost to a Bloomington-Normal team in Intercity or regular season action since the 2019-20 season—their win streak against Bloomington dating back to 2012. 
Last season, Community secured the Intercity title with a 59-20 victory over the Raiders.
In that contest, McKendree University commit Olivia Corson played just nine minutes. In the limited time the standout senior was on the court, Community outscored Bloomington by 24 points. 
Corson and Ali Ince led Community offensively in last season's tournament, averaging 13.7 and 10.7 points respectively in the team's first three crosstown contests..
Despite the Ironmen's recent Intercity dominance, Feeney said, the tournament isn't without pressure. 
The first week of basketball is "always strange," the coach said, "because it's actually the most attention that [the team] gets in a lot of ways" preceding the start of the boys' season. 
Feeney's goal is to relieve some of that pressure, instead focusing on the players "relaxing, realizing it's a long season, focusing on getting better, and then letting the results take care of themselves."
To do that, the team has been focused on taking care of each other, spending more time than in season's past on team bonding exercises.  
The players have been "complementing each other a lot more," Senior Giana Rawlings said, helping the Iron "feel that love and connection as a team."
The team has been playing word games like Catchphrase, where they take turns guessing a word that their teammates are describing. 
Communication—on and off—court is important for the squad as they've been practicing together for less than two weeks.
"The first couple of games," Rawlings said, might be "kind of messy" as the team learns to play together.
Check out the Inkspot's in-depth season preview here.