The girls basketball team's veteran core looks to lead Community to its first Sectional title in 19 years after falling in the Sectional Finals the last two seasons. 
Those back-to-back Finals appearances marked a resurgence for the Ironmen on the hardwood, as Community had gone 17 seasons without tipping off in a Sectional finale. 
The Ironmen finished the '21-22 season 27-7, the team's best record in two decades, coming within striking distance of Sectional glory, only to be defeated by the Edwardsville Tigers 57-45. 
Last season, Community found themselves back in the Sectional Finals after setting the school's single-season win record. The team fell 60-42 to the O'Fallon Panthers, extending the program's Sectional Title drought to 18 years. 
Community finished the 2023 campaign with a 31-4 record, while O'Fallon went on to secure their first 4A State Title.
As the Nov. 13 season opener approaches, The Ironmen, helmed by head coach Mr. Dave Feeney, are not merely focused on the numbers in the win/loss column. This year, the team has deliberately sought a more competitive regular-season schedule to prepare for the 4A postseason. 
"I tried to stack the schedule," Feeney said, "so that we're going to be pushed to be our best." 
This season, Community added three opponents to the schedule: the Lincoln Railsplitters, a team that rode a 36-game win-streak to the 3A State Finals last year, suffering their lone loss of the season in the Championship contest; and rematches against the Edwardsville Tigers (16-13) and the defending 4A State Champions O'Fallon Panthers (34-4). 
"The goal isn't to win a certain number of games," Feeney said. "That's never been our goal."
The goal is to win one game–the Sectional Championship. 
"We went out and found stronger opponents," Feeney said, "those are games that, if we lose… we can still gain a lot from.
"The goal is to be our best when it matters," Feeney continued. "The more tests we have … hopefully, the more confidence we'll play with."
Those tests, Feeney hopes, will have the Iron "playing [their] best basketball" come the Sectional Finals. 
The Big 12 Conference, too, will pose some challenges for the Ironmen. 
Despite two record-setting seasons, Community has finished 3rd in the conference the last two years behind the Peoria High Lions and the Peoria Notre Dame Irish. 
The Irish handed Community their first loss last season. Notre Dame snapped the Iron's 18-game win streak with a 49-46 victory in early January. The Irish finished the season 24-3, good for second in the conference.
Two weeks later, Community fell 56-35 to the Lions, as Peoria High went 29-4 on the way to a Big 12 Conference title and 3rd place in the 3A State Tournament.  
"I would love to win the Big 12 Conference," Feeney said. "We haven't done it in the last two years. Peoria Notre Dame, Peoria High will [both] be extremely strong."
Community's roster, too, is a formidable force, as the Iron boast seven returning athletes who dressed varsity the past two seasons. 
Those veterans, Feeney said, are what make the Ironmen versatile, something the coach sees as a significant asset.
"We're able to play a kind of position-less basketball," Feeney said.
Where other teams rely on "a true post or a point guard," Feeney said Community has "a bunch of kids that can do a bunch of different things." 
That ability, Feeney said, can make the Iron "a matchup nightmare" for their opponents, "allowing [Community] to do some things that are unique" in girls high school basketball.
"It's a once-in-a-lifetime type of experience to get to coach this group," Feeney said, a rare opportunity like "witnessing Halley's Comet."  
Dynamic players, Feeney said, like Olivia Corson and Ali Ince, can seamlessly transition between post positions to the point guard role, a skill that translates to the stat sheet.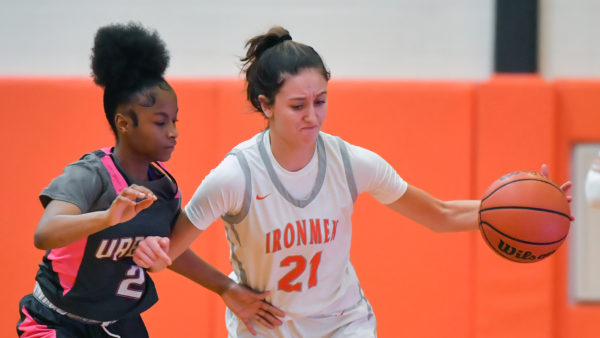 Last season, Corson, a unanimous first-team All-Conference selection, led the Iron in scoring, averaging 11.9 points per game for 416 points.
The 5-foot-10 senior is a consistent two-point shooter, converting 54.9%, and a threat from beyond the arc, draining 33 three-pointers last season.
And when the All-State honorable mention wasn't scoring, she facilitated offensive production. 
Corson led the team with 89 assists while snagging 48 offensive rebounds. 
The senior's willingness to share the ball is something the team does exceptionally well as a whole, Feeney said, as the Iron play "ridiculously unselfish" basketball. 
"What is so great about our kids," the coach said, "is that they share [the ball]."
Corson wasn't just an offensive weapon for Community last season, she excelled at limiting opponents' scoring chances.
She led the team in four defensive statistical categories: steals (81), defensive rebounds (91), deflections (86) and blocks (12). 
Corson is just one of Community's key contributors that opponents must game plan for.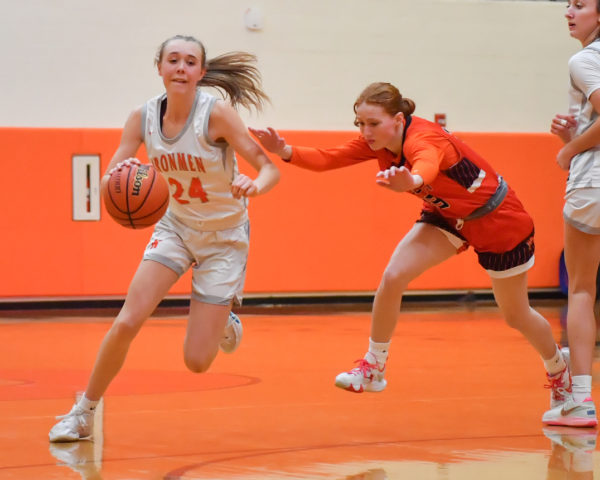 They'll have to account for Ali Ince, too.
Last season, Ince was second in scoring for the Iron with 278 points, averaging 8.2 points per game, and second in assists with 52.
Over half of Ince's points came from beyond the arc; she was the Iron's most reliable outside threat last season, sinking 42.17% of her three-point tries.
"She's an unbelievable athlete," Feeney said, soliciting multiple offers to run D-I track and field, "but the last thing she wants is the individual praise."
It's hard not to laud the standout track star's performance as she proved last season she can do more than run record-setting splits. She can run down rebounds. 
The spindly 5-foot-11 senior excelled at crashing the boards–recording a team-high 145, averaging 2.6 on defense right behind Corson.
Opposing defenses will also have to account for the offensive production of Gianna Rawlings and Allie Rustemeyer.
"We're going to have five kids on the floor who can dribble, pass and shoot," Feeney said.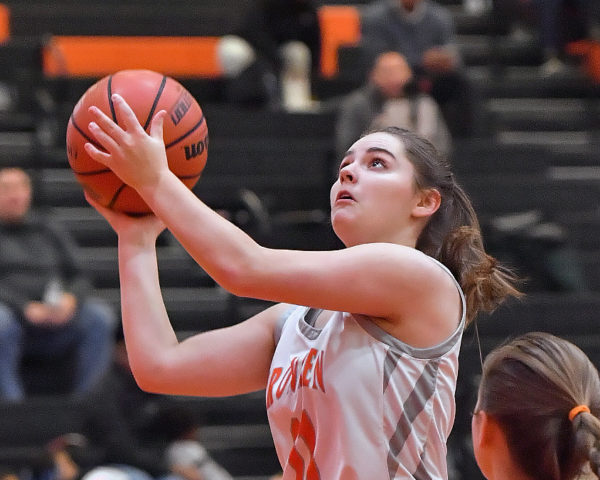 Two seasons ago, as a sophomore, Rawlings set a program record for three-pointers–sinking 85.
While Rawlings' production wasn't as prolific last year, the junior, coming off a pre-season injury, sank 67 threes, a team-high.
Rawlings finished last year with 265 points, good for third on the stat sheet. 
And while the three-pointer historically hasn't been part of Allie Rustemeyer's arsenal, she will be hard to keep off the floor for the Ironmen, as she is perhaps the team's best off-ball player, Feeney said. 
Rustemeyer isn't bad with the ball in her hands, either. The 5-foot-11 senior finished the season third in assists (51) while leading the team in free-throw percentage.
Playing the Iron's 5-position inside the paint, Rustemeyer converted 63.4% of her two-point tries and averaged 3.2 rebounds a game. 
"We have a bunch of kids that contribute," Feeney said, and they contribute in a lot of places. 
Community's roster isn't limited to a strong starting five, as the bench boasts depth.
"We're going to sub, and then we'll still have five players," Feeney said, "who can all dribble, pass and shoot."
The team, Feeney said, "might be one of the most talented groups that [Community has] had in decades."
Among them are Sophie Barlow, Meadow Bronke and Brynley Dowd–veterans all returning for their third season on the varsity roster. Coming off the bench last season, the trio combined for 123 points.
Barlow, averaging just eight minutes a game, showed her defensive prowess, leading the team with six charges and tallying 17 steals and 31 deflections.  
Noticeably absent from the roster this season–graduates Sophie Feeney and Lauren Hlava.
Sophie Feeney was last season's minutes leader (788), contributing in every column of the stat sheet. Her 50 steals, 235 points, and over 60 assists and rebounds undoubtedly helped earn her a roster spot for the Illinois Wesleyan Titans. 
Hlava, a starter for the Iron during her sophomore and junior years, saw her role reduced last season.
And she never complained, Feeney said, an example of one of the team's core tenets: unselfishness. 
Part of being a team, Feeney said, is how you play to everyone's strengths, how you compliment the other players on the roster. 
Hlava excelled in her role and made the most of her minutes, draining 41 threes on the season, second behind Rawlings.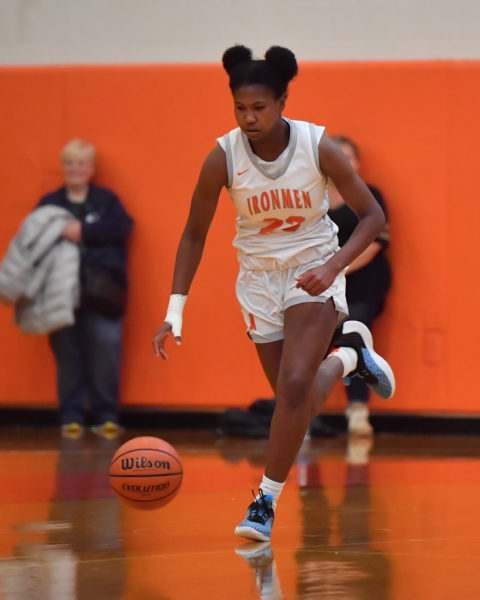 To fill the graduates' shoes this season, Coach Feeney will look to Rayna Powers.
That should be a manageable challenge for the junior, as Powers has proven her ability to make big plays in big moments before. 
In last season's State Farm Holiday Classic, Powers hit a last-second game-winner to upset top-seeded Mundelein's Carmel Catholic in the tourney's semifinal contest en-route to Community's first tournament title in 19 years.
Powers, a verbal commit to play D-I soccer for the University of Kentucky, credited her teammates for the scoring chance in post-game interviews.
The shot, she said, wouldn't have been possible without her teammates. You can't shoot the game-winner if your team doesn't have you in a position to win the game.
"For a kid that might be as good of an athlete as anybody in our building," Feeney said, Powers "is incredibly humble and always deflects praise." 
But she deserves it. Powers, an All-State soccer selection as a freshman, is an "unbelievable competitor," Feeney said, one who adds an element to the Iron's game: physicality. 
Powers, the coach said, is someone who isn't going to be pushed around on the court.
"She is super physical, she is super strong, you just can't knock her off balance. I think that comes from soccer," Feeney said, "where she's used to contact."
Some of our players, when they dribble and somebody bumps them, you can tell they get bumped.  Rayna? When a girl tries to bump her, it's that girl that ends up getting shifted back."
— Coach Dave Feeney
As a sophomore, Powers lived up to her name–averaging 15 minutes a game, tallied 150 points and boasted a stat line of 109 rebounds and 67 steals. 
While Powers brings strength and physicality to the Iron's already versatile roster, one thing the team lacks is size. 
Rustemeyer last season found herself in foul trouble, recording a team-high 83, the result of being forced to defend players like Caramel's 6-foot-4 Jordan Wood, United Township's 6-foot-4 Lorena Awou, and matching up Edwardsville's 6-foot-1 Sydney Harris the year before.
"Each of the teams we've lost the last two years had a 6-foot-3 kid inside," Feeney said. "By the time we get in the paint, there's just this monster waiting for us."
Monsters like O'Fallon's D'Myjah Bolds and Edwardsville's Elle Evans.
And Rustemeyer is no monster slayer.
She isn't going to "intimidate anyone with just raw massive strength," Feeney said. 
Rustemeyer is very skilled and athletic, Feeney said; "she runs like a deer" and "has a nose for the ball." 
But size and strength–those aren't her strengths.   
Enter Marco Reynolds, the Iron's only athlete listed above five foot. 
Reynolds, a junior, proposes a solution to handling some of Community's more physical opponents. At 6-foot, Reynolds' size and physicality provide a dominant rebounding presence in the paint that has been missing from the roster.
In seasons past, Community's lack of size has forced the team to prioritize creating perimeter pressure over rebounding, extending the defense and trying to get steals, Feeney said. And sometimes that can hurt with the team over-extended outside or outsized inside.
Reynolds, Feeney said, offers a solution that will translate to improved rebounding numbers and can take the pressure off the perimeter. 
Juniors A'Meah Lester, Kenna Malinowski, Camry Fisher and Sydney Janssen and senior Kate Oyler are expected to round out the roster.
Oyler returns to the varsity lineup for the second season. As a junior, she appeared in 19 contests for the Iron.
Lester, Malinowski and Fisher all consistently contributed at the junior varsity level last season.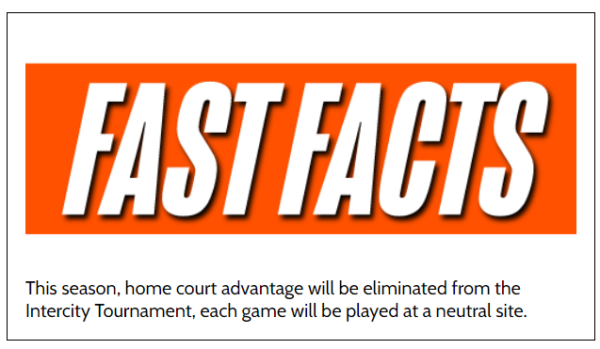 Janssen is a slight unknown for the Iron as she is coming off an injury sustained during the 2022 volleyball season, which kept her off the basketball court all last year. 
Community's season opens Nov. 13 with the Intercity Tournament when the Iron take on the Bloomington Raiders at U-High.
The Iron enter the annual event without losing an Intercity matchup in three years, in tournament or conference play.