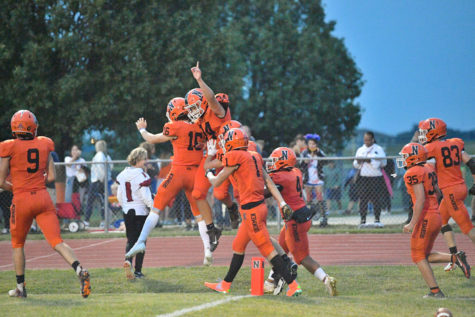 The Ironmen are 5-3 on the season after defeating Peoria Notre Dame in overtime 19-13 on Friday, Oct. 14.
Community plays host to the Peoria Manual Rams tonight. With a win, Community will extend its streak of consecutive postseason appearances to 26 seasons.
After posting a 10-0 regular season record in 2021, the Ironmen opened the 2022 campaign 1-3.
With a 21-4 loss to Normal West in Week 3 and falling to Peoria High 64-30 in Week 4, the Iron's playoff potential was in serious jeopardy.
But the Iron's best football was in front of them.
Community's quarterback combo of Kyle Beaty and Brady Augstin helped lead the Iron to four straight victories — including a 50-43 triple-overtime thriller over Danville — to remain postseason eligible.
The team's resurgence, Beaty said, is because "We've put in the work and taken it one week at a time."
Despite the Rams posting a 1-7 record, the Iron aren't underestimating Manual.
Manual can be a tough program, Middle linebacker Cooper Caraway, Community's leading tackler last week, said.
"We've been preparing all week," Caraway said, expecting to face some "very hard-working athletes."
The Ironmen are 4-0 all-time against the Rams, defeating Manual 57-22 in their matchup last season.