For the second straight year, Community's boys and girls varsity cross country teams finished 2nd at the Intercity meet at Maxwell Park, Thursday, Sep. 22.  
Girls Varsity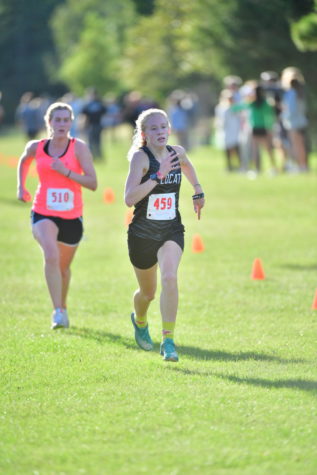 Normal West won the girl's race, with the Wildcats finishing 7 points ahead of Community.
Four Community runners finished in the top ten, led by Ali Ince's ('24) 3rd place finish.
Ince's 18:46 3-mile time was 26 seconds behind 2nd place finisher Julie Bach of West.
Lily Cavanaugh ('25) finished 6th (19:14), Abigail Ziemer ('24) placed 8th (19:52) and Megan Metz ('23) took 10th (20:08).
A Wildcat jersey crossed the finish line ahead of each of the Iron's top four finishers, with West's Renee Warren (18:59), Ashleigh Horton (19:26) and Amanda Warren (20:06) taking 5th, 7th and 9th, respectively.
Boys Varsity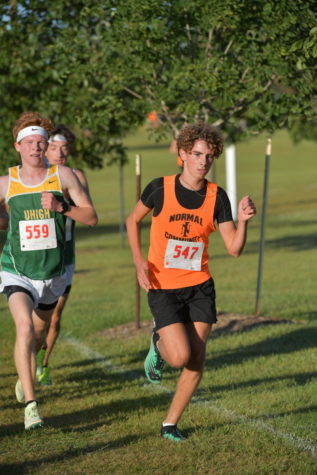 Community's boys placed second in the Intercity meet, finishing behind the U-High Pioneers for the second straight year.
While a tie-breaker decided last year's meet, the Ironmen finished 27 points behind the Pioneers this season.
Normal West's Sky Riddle took first (15:58), trailed by three Pioneers: Mitchell Hayes (16:02), Landen Alcom (16:04) and Mason Hart (16:06).
Community's Joey Yaros ('25) trailed the pack of Pioneers, crossing the finish line at 16:10 to earn 5th.
U-High runners Brandt Henderson and Connor Hartman would take 6th and 9th, contributing to the Pioneer's outright Intercity title.
AJ Ince ('26) and Jack Thomas ('24) were among the race's top ten finishers, with Ince (16:32) taking eighth and Thomas (16:36) tenth.