When the Theatre department's fall production of "The Diviners" premieres this weekend, a new generation of performers will take center stage. 
Set in a rural Indiana town during the Great Depression, the story revolves around the intertwining lives of the townspeople as they grapple with faith, friendship and community in the face of tragedy and hardship. 
Tasked with making those mature themes feel authentic to audiences is a cast and crew composed predominantly of underclassmen–many who have never before graced the stage of the school's theater program–as the production features just one senior actor (Abbey Rademacher) and two seniors on the technical crew. 
Sophomores Davis Esposito and Cohen Boyd star in the show's challenging and emotionally charged lead roles, the first performances in the Community Theatre program for both. 
Boyd embodies Buddy Layman, a young man with a unique ability to "divine" water sources, who is at the heart of the production. Traumatized by a near-drowning incident that claimed his mother's life, Buddy is deeply afraid of water and has struggled with a mental disability ever since. 
Buddy's life takes an unexpected turn when C.C. Showers (Davis Esposito), a wandering ex-preacher, arrives, and the two form an unlikely friendship. C.C. works to help Buddy confront his fear of water and the trauma of his past, as Buddy's unique talent stirs up curiosity and faith within the community.
Community's Director Ms. Kevin Yale Vernon has faith in the young actors to deliver on opening night. 
Despite lacking experience in the Theatre program, Boyd and Esposito are no strangers to the stage. Both have a background in musical theater, starring in last year's Music department production of "The Lightning Thief."
Esposito, Vernon said, is "a natural actor" despite this being his first year acting. 
"He's got really good instincts, and he has that rare capacity to actually listen to other actors and hear them," Vernon said. "One of the biggest problems you can have in young actors is people not listening to themselves or others–just reciting lines. 
"That's not true for Davis. He really connects to what he is saying and what others are saying. So you feel like you're really watching a person and not we're watching an actor saying lines. It's an inborn talent," Vernon continued.
A talent was evident during auditions. 
"If the person gets up there and can make me see the character in my mind when they audition," the veteran director said, "that's the best person for the role."
Davis and Boyd brought energy and honesty to their auditions, Vernon said. 
"For Davis, at one point in time, we said, 'pretend you're a snake oil salesman because he's supposed to be an itinerant preacher,'" Vernon said, "and he just really took off and had fun with it." 
In the role of Buddy, a 14-year-old with the mind of a four-year-old, Vernon said, is a more challenging role to cast. 
"You want someone who can do that without it being insulting or a caricature."
Enter Cohen Boyd.
"Cohen has this aura of innocence about him," Vernon said. "You believe him. He's just got this realness and this childlike capacity about him that just works."
"That's the difference between going to a show where [the actors just] knew all their lines and going to a show where you really feel something afterward," the director said. "It's the believability, and that has to start with the actor."
The leads attribute that believability to the trust and relationships among the cast. 
"I think it all [comes] down to the chemistry with the other actors," Davis said. 
This synergy is evident in the portrayal of Buddy and C.C.'s complex relationship, which is at the play's core.
"We just act off each other," Boyd said. We "feed into each other's performances and work very well bouncing off each other."
Those relationships have been able to develop partly due to the show's relatively small ensemble.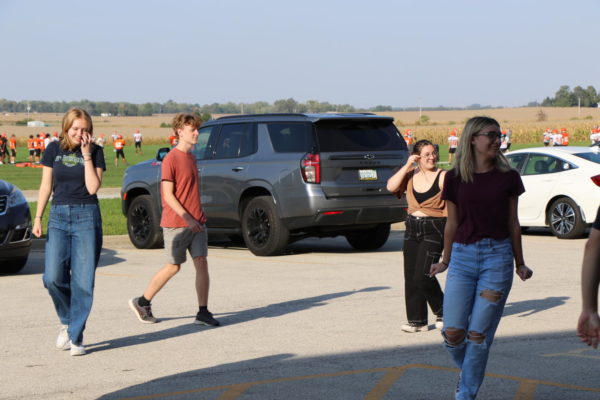 Sophomore Micah Heller returns to the stage as an old farmer–"one of his specialties," Vernon said, with junior Sophia Hartke as his wife, the town's "doubting Thomas."
Sophomores Coelton Harris and Miguel Patino Diaz offer some of the performance's comic relief.
"It is really a dramedy," Vernon said. "They're sort of adorable."
The small cast, Davis said, is more "more intimate," something "which allows for deeper connections between the characters."
Another benefit? 
It "is definitely more personal," Boyd said. "You get more one-on-one time with the director and your fellow actors."
That one-on-one time has been valuable in helping the cast–like junior Josh Waggoner as Buddy's father–learn how to portray real grief on stage.
"It's adult grief," Vernon said, "Grief you've been living with for a very long time." 
The director, along with assistant directors Meg Keogh and Cassie Adelman, spent "a lot of time [doing] what we call table work."
While the actors have not lived their characters' experiences, Vernon said, they've "never been married and lost a wife." 
The directors tasked them with channeling their own experiences into their performances.
During the table time, Vernon said, we'd ask, "Can you think of a point in time in your life where you had to deal with loss long term? Okay, I want you to think of that. I want you to put that feeling through the character's words." 
"For any actor, if you trust yourself and can go back and find those vulnerable moments in yourself, you will bring truth to a character … It's that honesty of emotion."
Audiences can catch Davis Esposito, Cohen Boyd and the rest of the talented cast in "The Diviners" on October 6, 7, 13, and 14 at 7 p.m. in the Community auditorium. 
Tickets are $10 for adults and $5 for students, available only at the door for general admission.