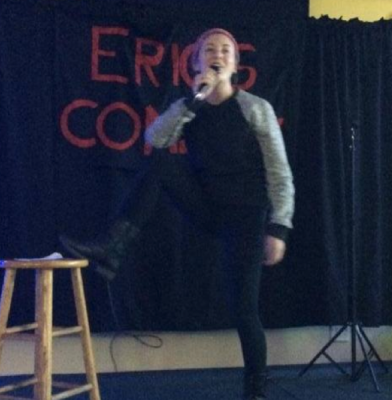 The arts are often a route that many teenagers fail to pursue as a path that will lead to a viable career. Within the arts, further underrepresented by teen voices is comedy.  Courtney Bennett has been digging into comedy since junior high.  She described her fascination with the art blooming once she first saw in 7th grade the popular comedy show Saturday Night Live and the sketch comedy skits being performed.  Bennett's pursuit of her comedy dream has been a long one.
She covers how she tried many things in order to gain more experience with comedy.  "I looked into what everybody from SNL did to get into comedy.  So I tried out for the speech team freshman year."
Bennett's interactions with the speech team went "alright," she described, as she recounted her experiences with the event humorous interpretations.  It wasn't until she didn't place in a humorous interpretation event that she lost sight of her dream.
Bennett didn't find the drive for comedy again until earlier this year.  Her thoughts about it were, "God, I just want to do stand up so bad. I just started writing jokes out of the blue."
The result of this was finding a seminar class that was produced by the Laugh House Club, which opened up a whole new world for Bennett. She describes how the class opened her eyes to the comedy world around her in Bloomington. She recalls how that seminar was how she met a lot of fellow comedians here in town.
It was in April that Bennett began traveling to Peoria and Champaign for open mics.
"
"
I believe Courtney's comedy is extremely funny. She knows how to get the crowd involved and laughing throughout the set
Alexis Altshue, 19, stated.  Altshue, a co- worker, has been to a few of Bennett's sets.
Months down the road after starting her open mics, Courtney has expressed her happiness at propelling forward in the comedy scene.  She's been asked to start hosting, or as she calls it " emceeing." She describes the world of comedy as a hierarchy.  The bottom level of which is the open mic.  Then a hosting position, a feature which is granted about twenty minutes on stage, and finally the headliner.
The headliner is the one that gets paid, and in Bennett's words, "the real deal".  Her hopes is to move to Chicago and do open mics every night and eventually start gaining pay from her comedy.  "Everyone big comes out of Chicago like Tina Fey and Amy Poehler," Bennett stated as she spoke about her future plans.
To help her focus on her comedy career, she stopped attending Normal West recently and transferred to the Alternative school in Bloomington-Normal.  Her dedication to her bettering herself in comedy is uncanny.  "School is not where I want to be.  I value education, but I'm at a different part of my life.  I want to pursue comedy.  I want to be in Chicago right now just doing open mics every night."
She does possess some uneasiness about a lot of people not receiving her jokes well, but  many are optimistic and believes she'll do great in the comedy scene. "I believe that Courtney's art is revolutionary.  I do believe she will go far with it.  She listens to others feedback and progresses within that feedback," Altshue said.