Round Three Update: NCHS' Favorite Teacher – March Madness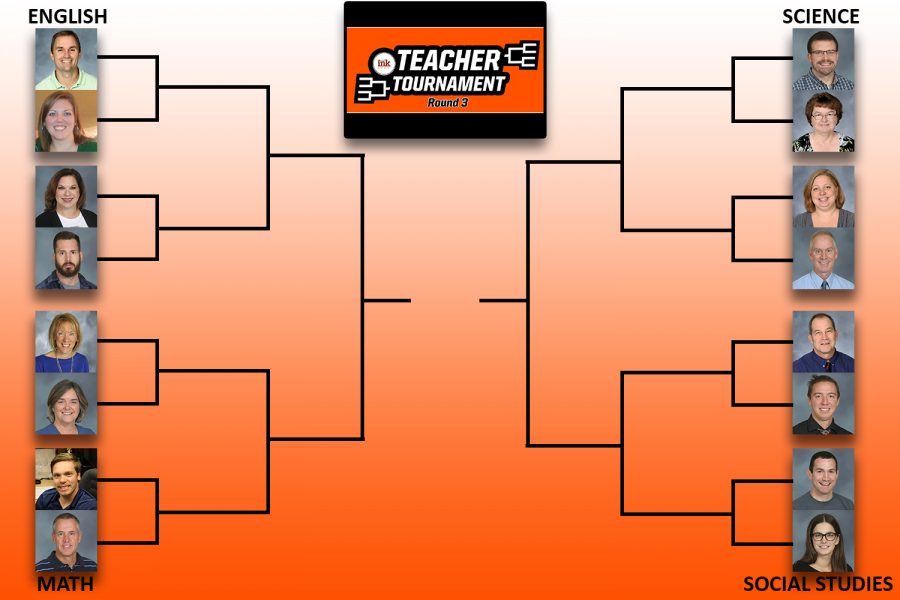 When round two of the inaugural NCHS' Favorite Teacher competition closed, the pool was again cut in half – leaving only 4 teachers from each of the core departments standing.
The matchup between Social Studies' Mr. Dave Witzig and Mr. Kevin Shackley ended in a tie. Round one votes were added to the teacher's round two scores as the tie-breaker – advancing Shackley on.
Ms. Tara Pendleton of the Business department is the only remaining competitor from outside of the core four departments.
Mr. Kelly Keogh looks to be a competition front runner, gaining the most overall votes in both round one and two.
View the results of round two voting below and click the link to cast your round three votes, determining Community's top teacher.
English
Feeney, D. d. Scott
Konopasek d. Baez
Runyon d. Vernon
Bovenkerk d. Krogmeier
---
Math 
Endsley d. Lawrence
Feeney, A. d. Florido
Bergmann, L. d. Gotschall
Gibbens d. Perez
---
Science
Roller d. Bergmann, J.
Barnes d. Peters
Pendleton d. Swanson
Christopherson d. Sutherland
---
Social Studies
Keogh d. Suess
Shackley d. Witzig, D.
Lawler d. Robinson
Hawkins d. Hagler
About the Writer
Inkspot Staff, Inkspot Staff
Stories published under Inkspot Staff are unattributed to a single reporter because they: have been produced through a collaborative staff effort; individual...