Round Two Update: NCHS' Favorite Teacher – March Madness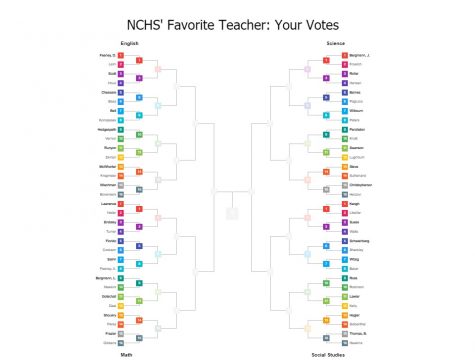 Round one of the inaugural NCHS' Favorite Teacher competition closed Monday at 5 p.m. When the digital-dust settled, half of the pool was eliminated, narrowing the field to 32 teachers.
Five matchups were decided by a single vote, propelling Ms. Kaitlyn Baez, Ms. Christine Konopasek, Ms. Heather Gotschall, Ms. Christy Perez, and Mr. John Bergmann into round two.
The Math department's Mr. Lance Bergmann was the only first-year teacher to survive the tournament's opening round.
View the results below and click the link to cast your votes, determining Community's top teacher.
English
Feeney, D. d. Lelm
Scott d. Houk
Baez d. Chessare
Konopasek d. Belt
Vernon d. Hedgespeth
Runyon d. Zeman
Krogmeier d. McWhorter
Bovenkerk d. Wiechman
---
Math 
Lawrence d. Heller
Endsley d. Turner
Florido d. Cookson
Feeney, A. d. Salrin
Bergmann, L. d. Newkirk
Gotschall d. Deal
Perez d. Shoukry
Gibbens d. Frazier
---
Science
Bergmann, J. d. Froelich
Roller d. Hansen
Barnes d. Paglucia
Peters d. Wilbourn
Pendleton d. Knott
Swanson d. Luginbuhl
Sutherland d. Steve
Christopherson d. Herzovi
---
Social Studies
Keogh d. Litwiller
Suess d. Watts
Shackley d. Schweinberg
Witzig d. Baker
Robinson d. Ross
Lawler d. Kelly
Hagler d. Siebenthal
Hawkins d. Thomas, B.
About the Writer
Inkspot Staff, Inkspot Staff
Stories published under Inkspot Staff are unattributed to a single reporter because they: have been produced through a collaborative staff effort; individual...