Why Journalism?
What the Students Say
---
"
Being involved in the Inkspot in high school was one of the highlights of my high school career: learning so many great skills as Photoshop & InDesign; writing in a different style than in other high school English courses; how to meet deadlines… This course helped me narrow down what I wanted to major in in college: Integrated Marketing Communications in the School of Journalism. So many of the skills I learned during my time with the Inkspot I have found myself using in my college Journalism courses. But you will gain great skills through Inkspot- even if you don't plan on going into the Journalism field."
— Elyse S. - Class of 2017
"
Taking NCHS's Journalism courses and being a part of the Inkspot was an amazing experience that I am continuously grateful for, especially as I move forward as a college student and as a writer. Journalism was the first opportunity for me to get my name out into the world of writing via a credible platform. College courses, clubs, and internships are particularly keen to embrace participants that have a journalistic background.
You'll develop personal blogging and computer skills and learn a valuable lesson in finding the most meaningful things to say and saying them in the most meaningful way.
The course also gives you an amazing level of freedom, contrary to a standard English class; via Inkspot, I was able to investigate and write articles on topics I was really passionate about, such as poetry, music, and art. Journalism and Inkspot also gives you a peek behind the curtain into NCHS's secrets– you'll get access to places, people, and information other students typically don't.
Through the Inkspot you can try your hand at anything and everything, from reviews to video to photography to podcasts, learning from your peers and the incomparable Mr. Bovenkerk, and you can score some awesome free merch in the meantime from musicians and artists, including CDs and even tickets to Warped Tour."
— Meghan B. - Class of 2015
"
Trying to think of a career to chase is a difficult enough task for high schoolers, but when there isn't any sort of inkling of an idea, it's that much harder. That was the situation I was in for a long time, but something- call it luck, fate, my guidance counselor- convinced me to try out Mr. Bovenkerk's Journalism class for my senior year. It was arguably the best choice I have ever made. A week into the school I knew that journalism was something I wanted to do forever. Journalism is not a hard thing to master, but it is so important to society. Having a foundational understanding of what journalism is from Mr. Bovenkerk's class is something I would have used even if I weren't going into journalism as a career. It helped me grow in the ways that I read the news, looking more actively for bias and what could have been done better. It taught me how to ask better questions when I know there is something I'm not being told. But perhaps most importantly, it allowed my skills as a writer and communicator to flourish, which is something every person, in every career needs to be able to do. I recommend Journalism to anyone thinking of journalism as a career for obvious reasons. It put me on a path that has led me to an Opinions Editor position at my college newspaper and to a news internship at the Rock Island-Moline Dispatch-Argus. However, I also recommend Journalism to everyone else for the skills, experience, and pure excitement that journalism can offer. I'm two years into college now, and I still check the Inkspot website as regularly as I can. The Inkspot was my favorite part of high school, and I only wish I had done it for more years than one."
— Rachel L. - Class of 2016
Our handout from Freshman Orientation and the Elective Fair
---
What the Experts Say
---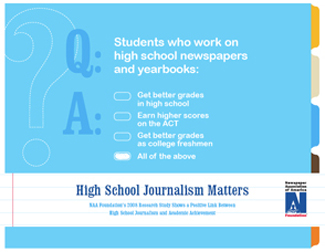 Research conducted for the Newspaper Association of America Foundation provides clear evidence that student journalists earn better high school grades, perform at higher levels on college entrance exams and receive higher grades in college writing and grammar courses than students who lack that experience.
The "High School Journalism Matters" study builds on previous NAA Foundation research showing that students who work on their high school newspapers are more engaged in civic activities, better educated and more involved citizens as they grow older.
A National Council of Teachers of English resolution on the importance of journalism courses and programs in English curricula approved by the NCTE Board of Directors or the NCTE Executive Committee adopted at the 2004  Also includes a comprehensive works cited bibliography.
The Association of Schools of Journalism and Mass Communication Secondary Education Committee adopted a position statement on the value of scholastic media. In 2008, the ASJMC sent the linked document to high school principals across the country, as well as to state scholastic press associations and other organizations concerned about scholastic media.
Frank LoMonte, the former director of the Student Press Law Center, penned this article on the value of high school journalism for The New York Times during the Student Journalism week during 2011.