Abby: Hit the spot
The scariest thing to happen to me so far this spooky season? 
Opening an unassuming Insomnia Cookies box to find a dessert alarmingly shrouded with shiny sprinkles and bloodlike red velvet frosting: the Glampire Loaded Brownie.
The promotional images on Insomnia's website, while relatively accurate, could not have prepared me for the real thing.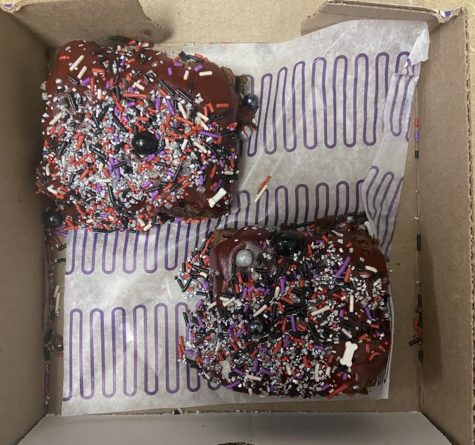 At least nine variations of glittery sprinkles spilled over a thick coat of crimson-colored icing, making it almost impossible to decipher the brownie buried underneath. 
"Glampire" certainly seemed an appropriate name for the dessert, given its overwhelmingly glammed-up toppings and frosting designed to resemble blood. 
So, too, "Insomnia" seemed an appropriate name for the shop selling the dessert. 
One glance at this nightmare of a treat, this creature from a gothic fiction cookbook, could have triggered insomnia in anyone. 
At least, that's how I felt before I took the first bite.
As I tentatively raised that plastic fork to my lips, anxiously wondering if the brownie's bone-shaped sprinkles would taste like the skeletal parts they were made to mirror, I experienced two emotions. 
First: relief. The sprinkles were surprisingly soft, and the frosting tasted pleasantly familiar.
Then: longing. 
For another bite. And then another. 
That red-blood frosting gave me life, just as real blood would a vampire. 
And the rich, dark-as-night brownie base was as good as any I had ever tasted. 
Suddenly, my feelings towards the dessert's skeletal sprinkles and blood-red frosting transformed from alarm to amusement. 
Sure, the brownie was far from aesthetic, but it did call to mind countless kitchen memories from my early childhood: a time when any dessert could become a sprinkle bomb with one haphazard tip of the shaker. 
For the first time in my life, unearthing something in my food that resembled bone felt fitting— not frightening. 
Even the red velvet frosting, buried what felt like six feet under the sprinkled surface, matched the monstrosity's fudgy innards perfectly. 
Of course, such daunting deliciousness came at a price.
$5.25. 
Practically a chainsaw-hacked arm and a leg for an ordinary dessert of its size, but the Glampire Loaded Brownie?
Not exactly ordinary.
A few extra dollars isn't so scary for a treat that evokes all the same emotions as a haunted house visit at first glance and simulates a vampire's euphoria upon sucking human blood.