Abby: Hit the spot
From donuts to pie, cupcakes to ice cream, there's no better way to get in the fall spirit than with a pumpkin-flavored dessert. 
My expectations entering Nothing Bundt Cakes to sample their seasonal Pumpkin Spice Bundtlet for the first time? 
High. I've enjoyed many of the bakery's "bundtlets" before, so I was excited to try their take on my favorite fall flavor. 
My experience? 
Nothing bundt blissful.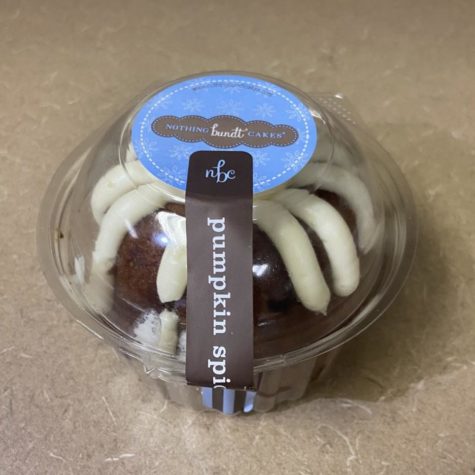 My mouth watered as soon as I saw cream cheese frosting circling the petite, deep orange cake in imperfect vertical stripes. The moment I opened the cutely-sealed package, the unmistakable scent of pumpkin wafted through the air. 
I easily slid my fork into the aromatic, perfectly textured cake. 
Then came the best part: that flavorful first bite. 
There are few better sensations than indulging in a spice that simultaneously pleases the nose and the taste buds. Add the bundtlet's deliciously thick, creamy frosting and you have an almost perfect pairing.  
The classic pumpkin spice and cream cheese combo, baked into the bundtlet's adorably petite signature shape made for pure autumn joy. 
Everything about the bundtlet— from the $4.75 I paid for what would eventually be three servings of mouthwatering euphoria to the nostalgic autumnal aroma that filled the air as soon as I opened the package— made me fall for the cake. 
It's not that the treat, even with its delightfully moist texture, tasted exceptionally better than the pumpkin nut bread my mom might make a few weeks before Halloween— or even the Entenmann's pumpkin donuts I could buy at any grocery store. 
It didn't. 
But perhaps it was because the treat so closely resembled the simple desserts of my childhood, complete with endearingly imperfect pipings of cream cheese frosting, that made it so easy to love.
The smell wafting through the air the moment I opened the charming package? Divine. 
The frosting to cake ratio? Flawless (Should you disagree, Nothing Bundt cakes offers additional frosting and frosting removal options). 
The overwhelming sense of the fall season invoked by that unmistakable dark orange tint alone? Priceless. 
If you ask me, $4.75 and 780 calories are small prices to pay for a sugary snack that can ship you back to seasons past.