Burr goes out swinging, places 9th at Golf Sectionals
Senior Alyvia Burr placed 9th at the IHSA Girls Golf Class 2A Sectional, capping of her high school golf career with a birdie at Champaign Centennial on Tues. Oct. 13.
In any other year, a top ten individual finish at Sectionals would qualify Burr for the IHSA State tournament, however, the Golf State Finals were canceled for the 2020 season, due to coronavirus.
To avoid potential disappointment, Burr headed into the Sectional tournament with "little to no expectations," improving on her Regional score of 81 by a stroke.
Burr teed off on the University of Illinois golf course as the only Lady Iron to advance onto Sectional play. However, she was not without support, as her twin sister, and teammate, Kate Burr watched from the gallery.
"Even though I wasn't out there playing… I still felt that I was right next to her," Kate said, sharing Alyvia's excitement. Kate "was very happy to be with [Alyvia] every step of the way."
Guiding her sister to "relax and hit the ball like she knows how to hit the ball," Kate wanted her sister to be as comfortable as possible with every shot.
Playing on her favorite course one last time as an Ironman, Alyvia Burr was determined to "go out and finish strong."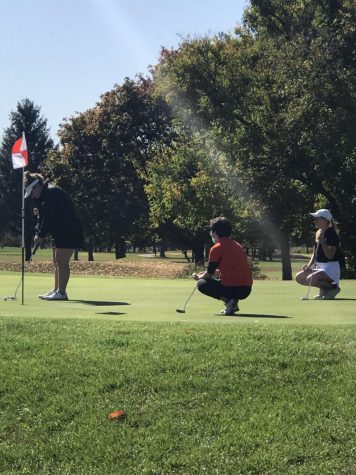 Like her Regional round, Alyvia ignored the leaderboard, trying to remain focused and to subdue her nerves. 
"Keeping the game between the ears is the most important part," Alyvia said.
While Alyvia missed a few birdie putts earlier in the day, Kate said that she knew the final shot, which was "5 or 6 feet from the pin," was her sister's "to make as her final Lady Iron putt." 
Sinking the putt on the 18th hole was "exhilarating, yet sad" for Alyvia as it brought her NCHS  golf career to an end.
"I think I played well under the pressure," Alyvia said, and she was "happy to be there for the experience."
About the Writer
Olivia Plangger, Co-Editor-in-Chief
Olivia Plangger is a senior at Normal Community and a second-year Inkspot reporter. Throughout her time in high school, she has competed on the Lady Iron...