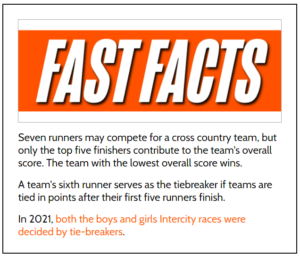 The boys cross country team earned its third consecutive first-place victory on Sept. 14, edging out Taylorville 33-35 to win the inaugural
Taylorville Invite.
Junior Joey Yaros took second with a 15:37.22 finish, trailing Taylorville's Owen Morgan by 13.31 seconds.
Four Ironmen would break the top 10 in Thursday's meet: Jack Thomas secured fifth (16:14.02), A.J Ince claimed sixth (16:46.44) and Caden Nyman took eighth (16:48.69).
Sophomore Colin Heath rounded out scoring for Community with a 17:21.62, good for 12th.
Nate Witzig crossed the finish line 13th (17:24.16); Drew Patterson placed 20th (17:54.59).
The team entered the meet on the heels of Sept. 9's win at the 55th Lee Halberg/Lanphier Invitational, the second in as many years.
Yaros and Ince posted top-five finishes for the Ironmen, helping Community finish the meet with 37 points, 22 ahead of runners-up Mahomet-Seymour.
Yaros took third at 16:10, 17 seconds behind the first-place finisher Taylorville's Morgan.
Ince, a sophomore, claimed fifth with a 16:19 finish; the senior, Thomas, crossed the finish line seventh at 16:33.
Patterson finished 12th, and Nyman took 15th at 17:03 and 17:26, respectively.
The Iron compete on Tuesday at the Randy Sharer Intercity Meet; the Maxwell Park competition begins at 5:45 p.m.