Wrestlers make history at IHSA State Tournament
Caden Correll's 5th place finish at the IHSA 3A State Wrestling Tournament in February made history, as the sophomore broke the school's single-season wins record.
Correll and teammate Cole Gentsch entered the first round of the State Competition at the University of Illinois, tied atop the program record boards with 47 wins apiece. 
While both sophomores broke the program's previous record of 42 wins during the regular season, State offered the grapplers the chance to leave a lasting legacy on the program.
Correll would finish the season 51-2, with the 106-pounder's only losses coming at State.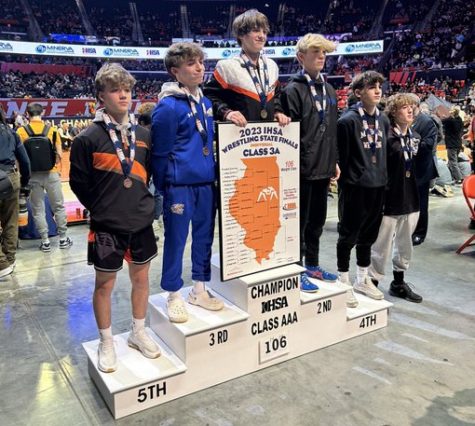 "I think I could have done better," Correll said after losing "two tough matches" to Sandburg High School's Rocco Hayes and Nicholas Garcia from Marion Academy. 
While those losses put an end to the sophomore's otherwise undefeated season, overall, Correll said, he was happy with his first State appearance and his fifth-place finish. 
The trip to State, competing on the floor at the State Farm Center, Correll said, was an experience had to stop and take in. 
It's something "you only get to do a couple [of] times," Correll said.
Correll looks poised to return to State next year after 2023's dominant performance.
This season, the sophomore claimed the program's single-season takedown record–scoring 311, more than doubling the previous record of 134. 
In just two years of competition, Correll has racked up 405 takedowns, shattering Thaddeus Nartey's previous career record of 320.
Gentsch finished State 1-2, ending his sophomore season 48-7. 
Gentsch's high school debut at State was a "good learning experience," he said. 
The State Tournament marked junior Cooper Caraway's second-straight season qualifying to compete against some of Illinois' best.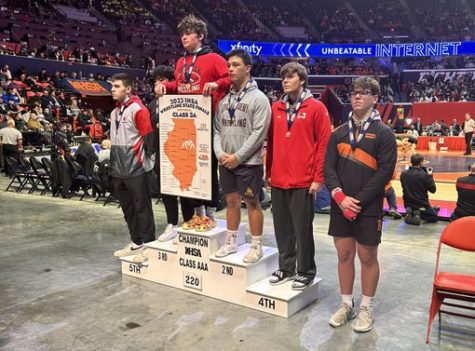 His experience sophomore year at the event, Caraway said, helped him enter the tournament feeling confident. 
While last year was "nerve-wracking," Caraway said, this season, with his teammates beside him, he "didn't feel the nerves or anything."
But while Caraway wasn't feeling nervous, he was feeling pain. 
After going 2-2 in the first rounds of the tournament, the 220-pounder broke a bone in his hand in warmups on Saturday.  
Caraway "decided to fight through it" because a single win would mean a trip to the podium. 
After pushing through–and winning–that match, Caraway medically forfeited.
Caraway placed 6th at State, going 3-3 and ending his season with a record of 46-8.
"There's no way I could keep … going," he said. 
But all the junior's breaks this season weren't as bad as his hand. Caraway broke the program's single-season pin record with 40 pins. His overall career record is 82. 
The State qualifiers are ready for next season, their eyes already set on the next State Finals. 
"I'm practicing," Correll said, "keep practicing and keep getting better."
Gentsch is prepping, too, describing his practices with Correll "like dogfights."
Despite being named an All-State Wrestler alongside Correll, Caraway thinks his next season will be even better. 
"I think it's going to be somewhat of a breakout season," he said.