Last shot at State
Senior golfer Kalen Mapugay returns to State competition after two year absence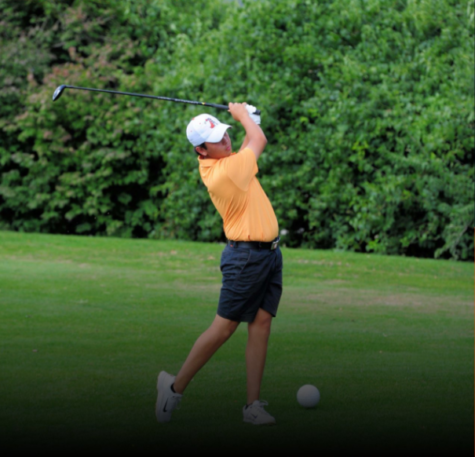 At the start of his senior golf season, Kalen Mapugay set a goal for himself — to tee off in the IHSA State Finals.
It was a goal he had met before.
As a freshman at the Pekin Sectional in 2019, Mapugay shot an 80 to qualify for State.
But after shooting an 87 on the State Final's opening day, Mapugay was unable to advance to the 2nd round of play.
As a sophomore, the COVID-19 pandemic prevented the IHSA from holding the State tournament, denying Mapugay the chance to compete.
In Mapugay's junior season, he fell three strokes short of qualifying for the State Finals. Despite shooting a 78, two strokes better than his freshman season, the golfer did not advance past the Lockport Sectional.
With one last shot at State, the senior Mapugay teed off at Oct. 3's O'Fallon Sectional, one of Community's four golfers to compete as an individual at the event.
Mapugay shot a 78 — this year, it was enough to qualify for State; this year, it was enough to meet the goal he set at the start of the 2022 season.
Mapugay's individual achievements helped drive the Ironmen golf team to a successful 2022 season.
After finishing second as a team in the Intercity tournament in 2021, Mapugay's first-place individual finish led the Ironmen to an Intercity title, the team's first in over half a decade.
"Getting the Intercity trophy back was a big, big emphasis for us this year. We lost in my first three years," Mapugay said. "Winning individually their was a bonus."
Less than a week later, the Iron celebrated another championship — earning their fifth Big 12 Conference victory in as many years, marking the fourth title for Mapugay and fellow senior Jackson Weaver.
The two seniors earned All-Conference honors along with teammates Johnnie Blackburn ('24), Brenden Reardon ('25) and Nathan Newman ('24).
It was not a season of all successes as the Ironmen were one stroke short of qualifying for Sectionals as a team.
Weaver, Blackburn and Reardon joined Mapugay to compete in the event as individual qualifiers.
Mapugay, the lone Ironmen to advance, was set to compete in Oct. 7-8's IHSA State Tournament at the Den at Fox Creek in Bloomington.
He teed off on the tournament's opening day with another goal — to finish in the top 10.
"I knew that it would take two good scores in the low 70s, but going out there on the first day, I felt a little under the weather, and it got cold for us," Mapugay said. "It was like 20-mile-an-hour winds.
"I just tried to play my best and fight through it, but it didn't come out how I wanted it to."
While Mapugay's opening round score of 80 was not what he was hoping for, it did qualify him for the tournament's second round.
In his final round as an Ironmen golfer, Mapugay shot 87 on his way to 72nd place at the State tournament.
"It wasn't how I wanted it to end, but it definitely was a fun ride."
About the Writer
Tyler Chapman, Senior Staff Reporter
Tyler Chapman is a senior at Normal Community High School and is a member of the soccer, cross country, and track & field teams. This is their second...