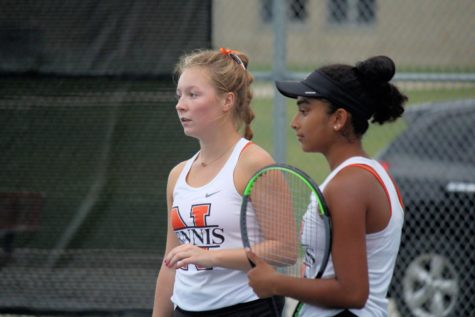 After back-to-back trips to the IHSA State Tennis Tournament, juniors Anna Mayes and Kruthi Sudhir are already looking forward to next season.
The doubles team finished the 2022 2A State Finals as one of the top 12 teams in Illinois.
Last season at State, Mayes said, the team's goal was to "[get] the lay of the land." 
As sophomores, Mayes and Sudhir advanced to the third round of play before falling to Hinsdale Central 6-0, 7-6. 
This season, Mayes said, the "goal was to go out there with more intensity," to "leave it all out on the court." 
Mayes and Sudhir's intensity led to the team's undefeated regular season record. The pair won all but one of their 22 matches in two sets.
"We [had] been successful all season," Mayes said, "so we wanted to … carry that through State." 
The team's regular season success added "a good kind of pressure" to the team's return to State, said Mayes. 
"I think pressure was a privilege," Mayes said. 
Mayes and Sudhir entered this year's tournament as the 14th-seeded doubles team, cruising through their first two rounds of play on Thursday, Oct. 20. The duo won 6-1, 6-1 over Crystal Lake and defeated Lockport Township 6-1, 6-0. 
In the third round of play, 6-seed New Trier's Coco Zabel and Ariane Lesterhuis won the first set over Community 6-2.
After dropping just their second set of the season to New Trier, Sudhir and Mayes responded, upsetting Zabel and Lesterhuis 6-4, 6-4 in the match's final two sets. 
The second-set win gave Community the momentum.
"We were both so energized," Mayes said, "we were trying to keep that momentum going."
The pair's hopes were high, Sudhir said, after taking a set from the higher seed.
"We really had nothing to lose," Sudhir said.
In Friday's Elite Eight round, Mayes and Sudhir faced Deerfield's Natalie Schoen and Abigail Lee. Deerfield entered the tournament seeded second. 
Deerfield won the first match over Community 7-6 in a tiebreaker. 
"The first set was pretty close," Mayes said, "We're both serving really well."
After winning the tiebreaker, Deerfield "had some momentum," Mayes said. 
Momentum, Mayes said, played a large factor in success at State.
"It's just a mental thing," Mayes said. "We kept saying to each other — the first point — we have to get the first point because that helps us get momentum started in each game."
Lee and Schoen defeated Sudhir and Mayes 6-0 in the second set. 
"They're a really good team," Mayes said. 
Mayes and Sudhir continued play in the tournament's consolation bracket after suffering their first loss of the season.
In the quarterfinals, Sudhir and Mayes faced-off against fourth-seeded Ainika Hou and Sonia Mehta of Stevenson High School.
Community lost to Stevenson in two straight sets, falling 7-6, 7-5. 
"We knew we could compete with them," Mayes said.  "We knew it was going to be a good match, and we were just ready to play our best."
For a two set match this is nearly as close as it gets– forcing a tiebreaker in the first set, and extending the second set to 7 points.
"It was definitely a hard loss," Sudhir said, "I think we were there … it's just those two or three points that we just need to convert."
That "hard loss" has the duo looking to their senior season. 
"You do learn from a loss," Sudhir said, "there is a lot that you can learn."
That is an ability, Sudhir said, that "definitely comes with match experience. When I was younger, I would always focus on our losses." 
Instead of focusing on the State loss, the duo looks to build from it. 
"One thing," Sudhir said, she "struggled a bit at State" with was staying loose and relaxed after missing points. 
"You have to kind of erase" your mistakes, Sudhir said, and "loosen up," because playing tight and conservative affects your competitiveness. 
A loose player can be a "dangerous" player, she said. 
Next season, Mayes said, "We want to do even better in State… [to] keep improving, we just want to do even better than we did this year."
To reach that goal, the duo isn't taking the off-season off. 
"Anna [and I]," Sudhir said, "train every day, we play tournaments on our own… Practice with our coach once a week."
"I really do think that we can win it next year," Sudhir said,  … we have a lot of hope for that too."
If the team can advance to the State Semifinal round, they can make history as Community's best State finish came in 2004-05 when Carrie Larson and Crista Gilmore finished 7th.