As head coach of Community's boys and girls soccer programs, Mr. Matt Chapman has celebrated his fair share of Senior Nights over the past 20 seasons.
But Monday, Oct. 10's was a little different for the veteran coach.
Before the 2-1 loss to Mahomet-Seymour, the team honored its six senior players: Ryan Elofson, Alexander Stephens, Austin Reibling, Tyrell Fisella, Uzay Togay and Coach Chapman's son — Tyler.
"This was the first time I've ever walked down as a parent," Coach Chapman said, "it was a weird feeling — tugging at the heartstrings a little bit."
Feelings were in no short supply for the players either; this season, on the way to a 12-8-6 record, was a sentimental one for the Iron's seniors.
"My dad's been coaching me in soccer since I was six or seven," Tyler said. "It's definitely different for me than other players. I would struggle sometimes, getting frustrated… with my dad in a certain way that some players can't really be frustrated with their coach."
This season, Tyler said, he learned how to take a step back, to understand the distinction between father and coach, to "understand what he's doing as my coach while on the field as opposed to what he's doing as my dad."
To learn how to step back, Tyler had to step away.
After playing varsity soccer as a freshman and sophomore, Tyler opted to run cross country his junior year.
This season, he was a two-sport athlete, running cross country with Community's "Distance Running Animals" and returning to the soccer pitch to be coached by his father for one last season.
"My dad and I have kind of worked out a player-coach relationship," Tyler said. "We have a father-son relationship, and it's impossible to keep those completely apart, but we do our best."
After finishing the regular season 11-7-6, Tyler said, the 2022 season had "been awesome."
The regular season had its highs — winning the Intercity Title; defeating Normal West, Moline and Urbana; recording 10 shutout wins — and lows — falling to Champaign Central in Big 12 play, a 3-0 loss from a state-ranked Peoria Notre Dame team (18-3-1).
Perhaps the biggest struggle for the Ironmen, Coach Chapman said, was the team's struggle to score.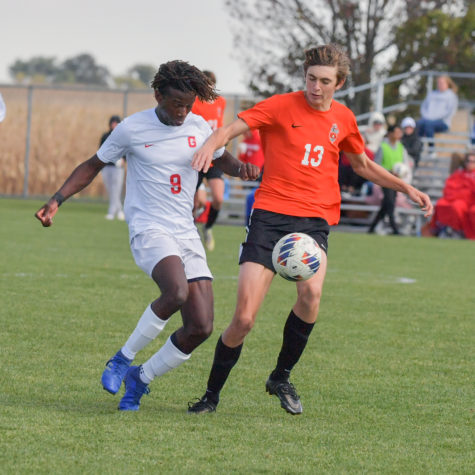 This season's Ironmen were the the lowest scoring team in the coach's tenure, with majority of the goals coming from two defenders. Something, the coach said, that "had never happened before."
Despite tallying 49 goals on the season, the Iron found ways to win — and ways to improve the team's young core.
"We probably played one of the toughest schedules we've ever had," Coach Chapman said. "Which is a good thing, ultimately, because it will prepare us to be successful."
Before postseason play began, Coach Chapman said, "There's a lot of little things that we are hoping are going to build towards some big highlights at the end."
One highlight was Oct. 18's 3-2 overtime win in the IHSA Regional Semifinals over Bradley-Bourbonnais.
Community took an early lead, scoring in the match's 11th minute.
Four minutes, later Bradley-Bourbonnais would tie the score at 1-1.
The Ironmen took the lead thirty seconds later, and held it until the match's 50 minute mark.
When regulation ended, Community and Bradley-Bourbonnais were tied 2-2.
The score wouldn't change during the overtime period's first 1o minute half.
Or the first nine and a half minutes of the second.
With 1 minute and 18 seconds to play, Ryan Elofson was fouled, awarding Austin Reibling, the team's leading scorer, a penalty kick.
Reibling converted the shot to advance the Ironmen to Regional Championship play.
Ultimately, the Ironmen's 2022 season ended in Friday's Regional Championship match, with the team losing 2-1 to Joliet West (16-5-3).
Austin Reibling recorded his 10th goal on the season — and last for the Iron — on an assist from Jonah Mwilambwe ('26).
Joliet West led Community in shots on goal 8-5 with Community's keeper Parker Michels recording six stops for the Iron.
When the final whistle blew, the team's four captains –Tyler Chapman, Alex Stephens, Ryan Elofson and Austin Reibling — capped a decade-long career playing together.
"We've known each other for a long time," Reibling said. "We played club when we were eight together; we're all good friends."
That decade of tournaments, road trips, and hotel sleepovers is full of "super fun memories," Tyler said.
This season, the teammates made new memories as a new face joined the soccer team's senior class, German foreign exchange student Tyrell Fisella.
Fisella, who contributed two goals and two assists this season, was "a great addition," Coach Chapman said. "We've really enjoyed … that cultural difference, [its] an interesting way of looking at things."
"It was fun when he got here," said Reibling. "He tried Chick-fil-A for the first time and loved it."
In no time, Fisella fit right in.
"[He was a] little quiet at first, but it didn't take long for him to make friends with all the guys and be a part of our culture," Tyler said.
Uzay Togay's emotions this season stemmed from challenges beyond soccer, as the senior goalkeeper came into the season having suffered disappointments larger than losses.
During his freshman soccer season, Togay was diagnosed with cancer, receiving treatment at St. Jude hospital.
Most of Togay's first three seasons on Community's roster were spent in hospitals, on the sidelines, interrupted by COVID, unable to play the sport he loves.
This season, Togay tallied 165 minutes in goal, tallying three halfs of shutout soccer for Community.
Togay's season highlight, he said, was "getting back on the field after cancer."
While his cancer diagnosis robbed him of playing time, it didn't rob him of his positive outlook.
"I've learned just to keep on going no matter how hard it is," Togay said.
His story was an inspiration for the Ironmen.
"He's just a terrific story in terms of things he has overcome," Coach Chapman said. "He was able to return to soccer, despite having gone through a ton physically; it's been really fun to have him around."
Togay's teammates offered him inspiration, and some escape, as well.
"Everyone who's playing Ironman soccer has always been super positive," Togay said. "And it's been a really fun time."
While Oct. 21's loss marked the end of the six seniors' high school careers, the bond they formed, the lessons they've learned, and the memories they've made remain.