Ironmen clinch playoff spot with victory over Peoria; look towards Granite City
The Ironmen defeated the Peoria High School Lions 42-38 at Peoria Stadium on Friday, Oct. 1, securing a playoff berth and their spot atop the Big 12 conference standings. 
The Big 12 conference "is kind of ours to lose," quarterback Chase Mackey ('22) said. 
Mackey was instrumental in the Ironmen victory, scoring four rushing touchdowns and two through the air.  
Six seemed to be a magic number on the night; Peoria matched the Ironmen's six touchdowns but turned the ball over six times. 
It was defensive back Chris Taylor's ('23) decisive second interception of the night, with less than a minute to play, that sealed the win for the Ironmen. 
Kicker Ryan Millmore's ('23) six P.A.Ts ultimately were the difference maker Friday night, as Peoria failed to convert on five two-point attempts. 
Millmore, the varsity soccer team's starting goalkeeper, described his role on the football team as "going out there and doing [his] job, making sure every field goal is good." 
Millmore, who splits his time between the soccer pitch and football field, did just that — splitting the uprights in each of his attempts.
Clinching a playoff spot, Community head coach Jason Drengwitz said, was "the standard and the expectation" for the Ironmen. 
With a 2-3 record and finishing sixth in the Big 12 last season, Drengwitz said the Ironmen's goal for this year "is to go beyond just making the playoffs." The team, he said, wants to be "playing in November."
With an 0-6 Granite City team next on the Ironmen's schedule, Mackey said the team has "got to perform."  
"They're [going to give] us their best shot," Mackey said. "We're going have to have [the] motivation that teams are coming for us."
While Community boasts an undefeated record and Granite City is winless, Drengwitz said, "great teams prepare the same way and prepare well every week, no matter who they play."
The only question is, Drengwitz said, "Do we want to be a good team or a great team?" 
About the Writer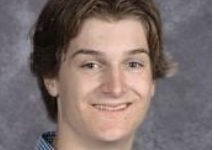 Eli Schneider, Senior Staff Reporter
Eli Schneider is a senior at Normal Community High School and in his third year of working with the Inkspot as a Senior Staff Reporter. Eli plays varsity...