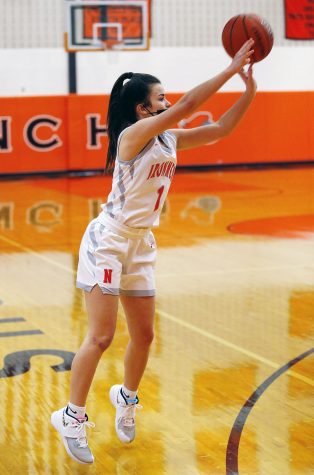 After three years of offensive run-throughs, full-court sprints, and ball handling drills, the Lady Iron basketball seniors were excited to take the court for their Senior Night game, a game they were unsure would become a reality.
"With COVID, we didn't think we were ever going to have our senior night, let alone a season in general," Lady Iron starter and Wisconsin Whitewater commit Mallory Oloffson ('21) said, so it is "nice for us to be recognized for all that hard work we've put in."
Normal Community celebrated their seniors with a 57-18 win against the Peoria Manual Rams on Wednesday, Feb. 10.
"It was a great night to honor our seniors and [show] what they mean to this program and to their teammates," Coach Feeney said.
Returning varsity players, Sophie Feeney ('23) and Ivie Juarez ('22) led the Iron in scoring and steals. Feeney's stat line boasted 13 points and three steals, while Juarez recorded 11 points and four steals. 
Juarez led the team with seven rebounds, followed by seniors Oloffson and Maylin Henning ('21) each with six.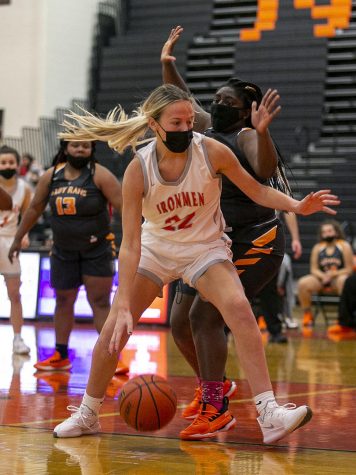 Oloffson contributed on both ends of the court, adding five points offensively, as well as three steals. 
Briana Mathews led the Lady Iron seniors in scoring with nine points, with Madison Feeney ('21) putting up four points and four rebounds. 
Senior Miriam Zappa was just excited to step on the floor, Zappa was playing with a cast after breaking her thumb in practice. 
The Lady Iron's 20-point lead in the second quarter allowed Zappa to sub in.
"I was especially happy that we were able to get Miriam Zappa into the game," Coach Feeney said, "and see her on the court one more time."
Normal Community returns to their home court Feb. 12, for a game against Peoria Notre Dame, who they defeated 59-36 last season.
The Lady Iron must "start off strong and finish strong," Madison Feeney said ('21), in order to remain undefeated.