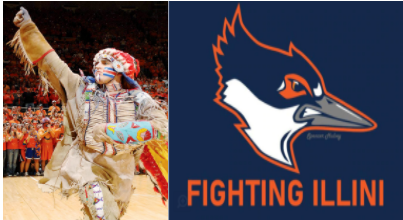 The University of Illinois Academic Senate passed a resolution in September, endorsing the Belted Kingfisher as the school's mascot in place of Chief Illiniwek, who was retired in 2007.
NCHS faculty who graduated from U of I weighed in on the contested topic.
Math teacher Mrs. Amy Feeney, who attended U of I in the '80s, thought the Chief was "revered" during her time on campus, serving as a symbol that people could "rally around."
However, Feeney noted that since she is not Native American, it isn't her place to determine what is culturally offensive to Indigenous peoples.
Math teacher Mr. Scott Froelich viewed Chief Illiniwek differently during his time in Champaign in the early '90s. The Chief "was not something that was held in reverence," Froelich said. "It was just a glorified halftime show.
"I was one of the few people I knew that didn't like the Chief during that time," Froelich said. He remembers being called a "waste of flesh" when he didn't stand during one the Chief's halftime performances.
Choir director Mr. Ben Luginbuhl, an Illinois student from 1994-1998, saw the Chief as an "honored symbol," though he understands why the school retired it.
Associate Principal Mrs. Nikki Maurer, who began her college education at U of I in 1994, said, "at that time there was still a lot of pride and excitement because I don't think the politically correct movement regarding school mascots … was really much of a thing."
Agriscience teacher Mrs. Liz Harris, who graduated from U of I in 2014, said that during her college years, opinions on the mascot were split between those who thought of the retired Chief "nostalgically" and those who wanted a new mascot.
While Froelich said that the proposed mascot, the Kingfisher, is "a difficult thing to embrace," he would like to see a mascot at games to provide entertainment.
Feeney and Luginbuhl both said that there is no need for the University to adopt a new mascot.
"What difference does it make if we have some bird costume running around the student section," Luginbuhl said, referring to the Kingfisher.
Luginbuhl's "wonderful experience" at U of I had nothing to do with Chief Illiniwek, he said, and therefore he doesn't think that a new mascot is necessary.
But Maurer believes that if U of I administrators don't give serious consideration to the Kingfisher proposal, "then they are basically slamming a door in the students' faces who feel misrepresented."
"It's a weird name," Maurer said, but she does like some of the qualities of the Kingfisher. "I appreciate the work that the student group did to try to find a solution."
While acknowledging that change won't be easy for everyone, Harris sees a benefit to the University moving forward: "If there's no mascot there, then it is always thinking back to the past."
Harris has seen other proposals for a U of I mascot in the past, and she thinks that the Belted Kingfisher is the best one yet.