Burr heads to IHSA Girls Golf Sectionals after tying for second at Regionals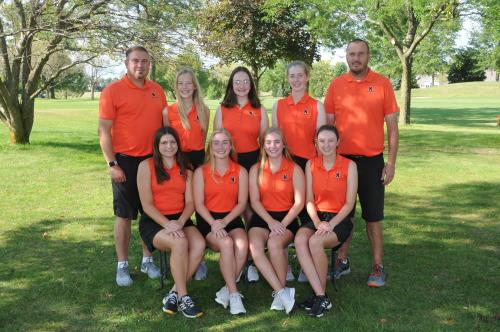 Senior Alyvia Burr advanced to today's IHSA Girls Golf Sectionals after tying for second place at Regionals on Wednesday, Oct., 7.
While the Normal Community varsity golf team placed fourth with a team score of 377, Burr's score of 81 secured her a spot in Sectional play. 
During Burr's first round of competition at Decatur's Red Tail Run Golf Course, she finished the eighth hole not knowing her place on the Regional leaderboard. However, Burr said she "put the whole season together," feeling "like things just kind of clicked" for her that day.
Despite hearing of her second-place finish as she walked to the clubhouse, the achievement "set in" during the awards ceremony because of the number of people there helping celebrate her accomplishment.
Burr's parents were pretty excited, she said. Without her dad's encouragement, she wouldn't have played golf in high school.
Her high school teammates joined in the excitement as well, and were "super proud" at the awards; "they're all like 'yay,'" Burr said.
Golfing competitively since freshman year, the three-time varsity athlete usually takes the course with her twin sister, Kate Burr. At Sectionals it will just be Alyvia on the course.
After ending her season, Kate was more excited for her sister than disappointed in her own play. 
While Kate will be watching her sister play at today's Sectionals tournament, alongside her parents and coach, Alyvia will "be a little more nervous since Kate's not there" competing alongside her.
Burr credits her Lady Iron golf coach, Mr. Mike Aslinger, as being "a pretty good mentor," adding that, "he's very strict, but really helpful."
Coach Aslinger's advice to "just relax" has stuck with Burr, helping her to manage the stress of competition.
But stress and nerves might not get to Burr if she can play to her strengths. 
 "I can usually start the hole off well and finish well,"Burr said, she considers her "strong suit" to be her driver and thinks "most of the time [her] putting is good."
Burr is "definitely glad" she took her dad's suggestion to start golf, but "never thought [she] would end up going into Sectionals." 
Today, Burr tees off at the Champaign Centennial Sectional, held at the University of Illinois Golf Course in Savoy.
"That's my favorite course," Burr said. "I usually play well on it."
About the Writer
Olivia Plangger, Co-Editor-in-Chief
Olivia Plangger is a senior at Normal Community and a second-year Inkspot reporter. Throughout her time in high school, she has competed on the Lady Iron...