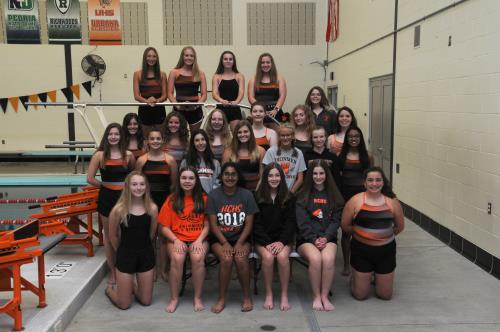 The previously undefeated Lady Iron varsity swimming and diving team look to bounce back after rivals Normal West delivered their first loss of the season Saturday.
"Many of our meets have not been as competitive," Coach Heather Budak said, "so it was a fun way to move to the next level of competition."
Despite the team score of 56-85, resulting in the Lady Iron's 8-1 season record, the senior swimmers came out of the water with individual successes.
After earning second place in the 50-yard butterfly, Maddie McBurney went on to place first in the 100yd individual medley, 50yd breaststroke, and the 100yd freestyle.
While McBurney secured a 100 freestyle season-best, with a 1:02 time over the Wildcats, she is "pushing to break the minute mark."
Brianna Bergmann had a strong performance against West — finishing second in the 200yd individual medley and the 100yd fly, and 3rd in the 500yd freestyle and 100yd breaststroke.
"We were all pretty nervous to swim against West," Bergmann said, "but all we could do was our best and just see what happens."
Budak credits her seniors — McBurney, Bergmann, and Morghan Hackman — for their unwavering leadership "through the abnormal year of 2020" as they work to "make all the freshmen feel comfortable," even though "it is hard to create the dynamic we are accustomed to because of the social distancing protocols we have in place."
Bergmann, too, recognizes that "the dynamic of the team is much different than past years."
In an effort to "make this season feel no different than the last," McBurney said that the trio "have been working together to make team bonding happen [and] make practices fun while still working hard."
Striving to feel "cohesive as one unit," Budak said, "we have mixed up the lanes and done the best we can to build that team spirit."
The Lady Iron head into competition today, their last regular-season home meet, against the U-High Pioneers celebrating Senior Day.
"As long as we keep practicing hard, we will have continued success," Budak said.
*An earlier edition of this article incorrectly reported the distances as meters instead of yards (updated: 10/08/2020 3:05 pm).