Lady Iron tennis 'set' for Senior Night success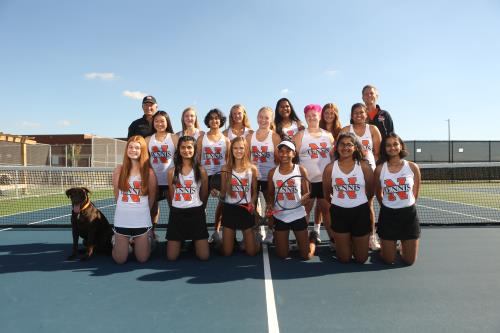 The Lady Iron varsity tennis team heads into Senior Night confidently, with a 7-1 record, facing the Richwoods Knights today at home.
The 4:30 p.m. match recognizes seniors Varsha Naraharasetty and Lexie Wells, who stress the importance of keeping a "good attitude during every situation," Meg Moser ('22) said.
Placing sixth as a team at IHSA Sectionals in 2019, the Lady Iron have a "great varsity team this year," Naraharasetty said, adding that "all of us have been giving a great contribution."
Stepping into the role of upperclassman leader, Naraharasetty "practices with a purpose," according to Moser, which encourages the team to follow in her footsteps.
"I have definitely become a better tennis player due to the competitiveness that comes with playing for varsity," Naraharasetty said of her three years on the varsity squad.
The Lady Iron have a tradition of success on the court, with last year's graduate Grace Walls earning first place at IHSA Sectionals. But beyond their play, the team inspires growth in each other.
"This team has made me more supportive, outgoing, and team-oriented. I would not be who I am today without them all," Lexie Wells, previously an MVP of Evanston Township High School, said.
With her "great sportsmanship", as appraised by Moser, the two-year NCHS varsity tennis team member Wells displays both her commitment to the game and teammates.
Exemplifying "how to be supportive of others and how to encourage one and other," Naraharasetty said, the two seniors enjoy working together toward their common goals.
Wells attributes the team's current success to their constant encouragement and competitiveness.
"I think our team brings a lot of things to the table," first-year varsity tennis player Isabelle McCormick said, which will assist them in making their mark at the Big 12 tournament once again.
The Lady Iron will next compete in the Bloomington Gold Invite on Saturday, September 19.
About the Writers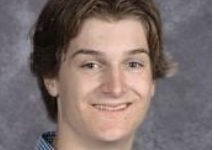 Eli Schneider, Senior Staff Reporter
Eli Schneider is a senior at Normal Community High School and in his third year of working with the Inkspot as a Senior Staff Reporter. Eli plays varsity...
Olivia Plangger, Co-Editor-in-Chief
Olivia Plangger is a senior at Normal Community and a second-year Inkspot reporter. Throughout her time in high school, she has competed on the Lady Iron...