The Lady Iron volleyball team concluded their season at the hands of Minooka on Monday, November 4. The Indians defeated NCHS in two matches — 25-12; 25-15 — in the IHSA 4A Sectional semifinals at Ottawa Township High School.
Hitter Mallory Oloffson ('21) could describe Minooka in one word: good – the team, their hitter, and their chemistry.
Despite that, Oloffson felt "like we played really well, but we just didn't come out with a win."
The team ended the season with an overall record of 21-13, improving by five wins over last season. 
The Lady Iron's most notable success from the 2019 season was winning the IHSA regional final against Moline High School. The team entered the game as the underdog after suffering a loss to Moline earlier in the season. After coming together in the second set, the team walked away with a regional title under their belt.
"Day in and day out, the girls came in, they were focused in practice and they got their jobs done," tenth-year varsity coach Christine Konopasek said. "They improved significantly, so when we played Moline in that regional final game, it was like the season had come full circle. I could not have asked for a better match for them, and they wanted that as a team."
Oloffson also agreed that the most memorable moments of the season were winning regionals and going undefeated in the conference. With her senior year ahead of her, Oloffson hopes to experience the same distinctive team bond that contributed to the success of the 2019 season, saying "We're all so close and we have such good team chemistry, and we're all just best friends."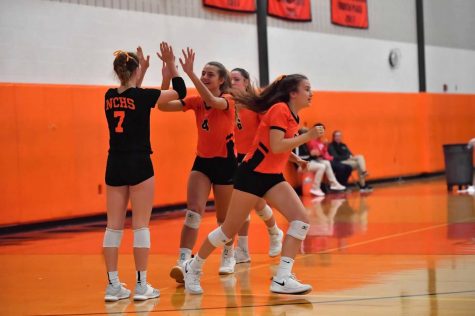 Oloffson believes that having four freshmen and five sophomores on varsity greatly benefited the team throughout the season. "Giving our underclassmen experience so that they know what varsity is like is great," said Oloffson, "and I think it's great that they're on the team."
With underclassmen such as Sophia Feeney, Kate Kraft and Isabelle McCormick leading the way, the Lady Iron were able to put up a good fight throughout Monday's sectional.
Although the team may have fallen short of their original goal of advancing to the IHSA state finals, Konopasek "could not be happier about all the growth during the season, and they (the players) were much more capable than they thought they were."
While Konopasek would have liked to advance further, "we were fortunate in that we have all of our players but one returning, so hopefully next year that bar gets set a little bit higher and that is what happens."
Looking forward, the coach has new goals in place for next year's varsity team. If the group can collectively work towards accomplishing their goals, Konopasek believes that the team will enter the 2020 season with new confidence.
Konopasek hopes that the team's overall communication and confidence will increase next season, since "those are skills that are going to be important not just for playing volleyball, but for all relationships and things that are going to happen in life."