As the NFL draft approaches, Bears fans are beginning to wonder what the future holds for the team, who finished 2017 with yet another losing season. Despite a disappointing 5-11 record, the Bears showcased some impressive talent from their younger players – showing the franchise's fans a possible light at the end of this losing tunnel. Though the team already has some talent on the roster, it is going to take drafting players that can start Week 1, the re-signing of key players, and acquisition of new free agents to help Chicago return to the postseason. The team has been absent from the NFL playoff picture for the last seven years.     
The Bears' young talent all begins on the team's defense.  Rookie safety Eddie Jackson was responsible for three takeaways and two defensive touchdowns in his debut season coming out of Alabama. The 4th round pick made NFL history last year when he returned two turnovers for touchdowns in the first half against the Carolina Panthers.
2016 first round pick Leonard Floyd finished his sophomore season with 5.5 sacks and 25 tackles in 10 games. Those are some eye-opening numbers in a limited action with Floyd suffering sprained ligaments in his knees which kept him out of six games. Despite being undersized for a defensive end at 240lbs, Floyd showed an elite ability to dodge 320-pound tackles and put pressure on the opposing teams' quarterbacks.
Bryce Callahan, a defensive back going into his third year as a Bear, is an integral part of the secondary. Callahan's speed is impressive and his ability to defend the pass is solid, with great lateral quickness and crisp angles to the ball.
If re-signed, Callahan will be a featured component of Chicago's secondary for a long time. However, Callahan may not be able to reach the elite level that Jackson and Floyd have flirted with the last few years due to his tendency to draw penalties.
The performance of these young players is not going unnoticed by the team. Veterans have already begun to lose their roster spots as former starters Jerrell Freeman, Pernell Mcphee, and Willie Young have been released.
To begin turning around the franchise and compliment the strengths of their youth, the Bears made some moves in the free agency. The Bears have signed OL Bradley Sowell ( 2 year deal), WR Allen Robinson (3 years 42 million, 25 million guaranteed), TE Trey Burton (4 years 32 million), pro-bowl K Cody Parkey (contract not available yet), WR Taylor Gabriel (4 years 26 million), backup QB Chase Daniels ( 2 years 10 million), former 2017 starter in Chicago CB Prince Amukamara (3 years 27 million),  LB Sam Acho (2 years 7.5 million), and OLB Aaron Lynch (1 year 6 million). Yes, the list is monstrous and mostly full of new faces, but it is time for a change of scenery in the Bears organization.
The Bears certainly had positions to target on the market: the wide receiver spot being a definite. At the position last year, the Bears ranked last in the league in passing yards (averaging 175.7 yards per game), lacking a go-to receiver for new QB Trubisky. Last year, the Bears top touted WRs, Illinois State grad Cameron Meredith and former 1st round pick Kevin White, were both sidelined by injuries. This is why the signings of Allen Robinson and Taylor Gabriel are vital to the team's success for this upcoming season.
STUD FREE AGENT SIGNINGS
Below are the new faces that will change the direction of the Bear's franchise and lead us to a year where wins are more prevalent.
Allen Robinson –  He had a huge year in 2015 with 1400 REC yards and 14 TDs. He also went to the Pro-Bowl that year. Now he only played one game this season because of an injury, but he still can be a productive WR for Trubisky to throw to. He is 6-3 so he can be a great red-zone target and can become Trubisky's go-to guy in the 2018 season. He is also 24 years old so he can add to our young core of talent and can help us get back into relevancy.
Taylor Gabriel – Gabriel poses a huge threat in the passing game to opposing defenses. Gabriel was the slot receiver for the Atlanta Falcons, who were 8th in passing yards (249.4 yards per game) last season. His demand this offseason wasn't as high as other receivers on the market due to the fact that he played alongside Julio Jones and Mohamed Sanu. He isn't a go-to on the goaline like Robinson is, but if the two are on the field together, it will be nearly unstoppable to any defense.
With the 3-year signing of Allen Robinson, the need for a #1 receiver is fulfilled. The former pro bowler will help out Trubisky's completion percentage, which was a disappointing 59.4%. It is hard to blame Mitch for this poor stat because he was throwing to receivers that would be lucky to get a special teams spot on a playoff contender, but with the addition of Robinson and Gabriel, I think it is a fair prediction to say that he will be well above the 60% completion percentage mark.
Another part of the Bears offense that needs work is the offensive line. Even though Trubisky's 6'2 220 pound frame is strong enough to withstand some hits, he still needs protection to get set in the pocket instead of running for his life. As seen in the past with Jay Cutler, taking multiple hits a game leads to injuries taking over the year. Cutler missed 26 games over the 8 seasons that he played in Chicago. Luckily, the signings of offensive lineman Bradley Sowell and Trey Burton will help out our blocking tremendously. 2017 rookie Adam Shaheen was relied on for edge blocking. This is out of his wheelhouse because all throughout his college career at (D2) Ashland University, he was the #1 receiving target on the team with 16 touchdown receptions which lead all of Division 2 football. Though he is a standout talent on the receiving end of the tight end position, he struggles with run and pass blocking which is what Trey Burton specializes. The tight end backed up Eagles stud and Super Bowl winner Zach Ertz last season and that is what his role will be with the Bears, as Shaheen will be the primary interior target of our offense.
On the defensive side of the ball, the Bears were surprisingly solid (ranked 10th in total defense). with some unexpected youth talent. With just a few minor free agency moves and an injury-free season, the team can rank amongst the best defenses in the NFL.
One strong point of the team's defense was the fantastic play by its secondary: lead by third-year player Kyle Fuller who's contract expired at the season's end and was picked back up by Chicago on a one-year deal. However, even with this impressive play, there are still some places the Bears could strengthen the team on the defensive side of the ball. I think that it all starts with signing defensive back Corey Graham who surprisingly is still on the market. He is now a two-time Super Bowl winner with the Baltimore Ravens in 2013 and the most recent 2018 Super Bowl champion Philadelphia Eagles. With a lack of leadership amongst a group of young defensive backs, who is a better option to provide some than the former Bear? Graham has played free safety for the majority of his career, but he is also more than capable to slide over to the cornerback position. He played this position mostly with the Bears early in his career from 2007- 2011. His skills set is similar to Callahan's because of his speed, versatility to play multiple positions, and leadership on special teams. Being a two-time Super Bowl champ, his leadership and veteran presence would make an impact on the team. Corey Graham is a proven winner.
KEY RE-SIGNINGS
Below are some of Chicago's re-signings to still maintain the Bear's tradition, but still bring more success to the city in 2018.
Bryce Callahan – It all starts with Bryce Callahan who had a breakout year last year as a nickelback, and will definitely be a huge part of our defense again in this upcoming season. Last year he has 2 interceptions, 1 sack, and 20 tackles.
Kyle Fuller – Fuller is another player that signed back with a 1 year and 12.9 million dollar contract this offseason. He proved that he could stay healthy all of this year, and he was rock solid in 2017. He had 2 picks and 60 tackles and even though these stats don't jump out, remember that he was going one-on-one with the opponent's best receiver every single game. Against the Falcons, Fuller held Julio Jones to 4 catches who has had over 1,400 yards the last 4 seasons.
Cameron Meredith – Cam was the Bears' hottest WR coming into the 2017 season, but unfortunately, he tore up his knee in the preseason. He had 888 yards playing in 14 games in 2016, and that was with mostly QB Matt Barkley, who shouldn't even be allowed to set foot on an NFL field with the way he played in 2016, with 8 touchdown passes and 14 interceptions in 7 total games. With a full year of rehab and an offseason working with Mitch, it is not out of the question to say Meredith could have an even better year than he did in 2016 if he is given ample time on the field.
Prince Amukamara – Prince, also known as "Royalty" in the locker room, is also an above average zone cornerback in the NFL. He had 45 tackles, and 7 pass deflections last season, while he didn't have a INT this season, he was still productive as the Bears' #2 next to Kyle Fuller. Keep in mind that zone corners are not notorious for getting picks like one-on-one cornerbacks.
Pat O'Donnell is another key player that the Bears re-signed. He is one of the top-tier punters in the league. He has had 0.006% of his punts in the NFL blocked, and his career-long punt of 72 yards. The Bears need a punter that can help flip field position, and O'Donnell can do that. He even had a TD pass this year to Benny Cunningham.  
THE DRAFT 
The other way the franchise will bring in talent is by the draft. Below is what we think are the best possible solutions to transform this losing franchise into a winning one.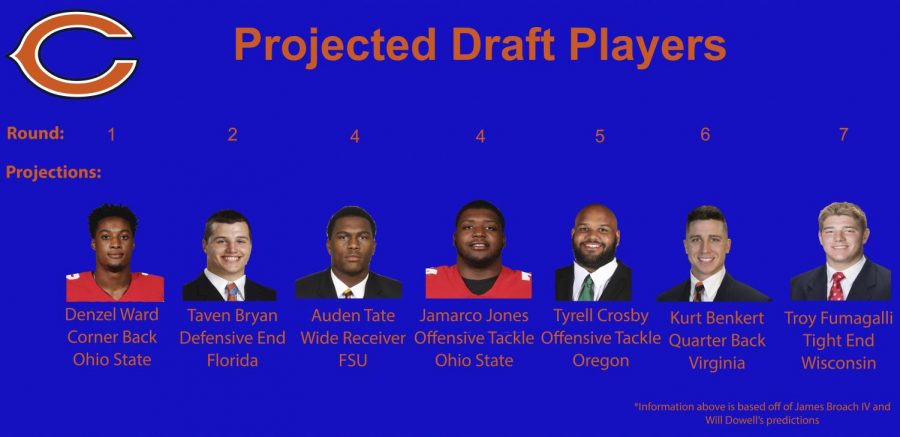 Round 1 – Denzel Ward; CB – Ohio State– Ward is listed at 5'10", so there are some concerns about his ability to guard bigger receivers. However,  his long arms make up for his height, he's very physical, has great footwork, and body control technique which will give him good position on 50/50 balls thrown to big defenders. One big takeaway from his game is that he has great first-step speed.
Round 2 – Taven Bryan; 3-4 DE – Florida– Bryan is 6-4 and 291 lbs. Scouts have even said he has flashes of J.J. Watt in him. While Bryan's stats won't show that, his impact was tremendous on the Gators' defense. Bryan has star potential and if he lives up to the hype, he will definitely be worth a second round pick. We both agree on that.
Round 4 – Auden Tate; WR – FSU– Tate is a huge receiver. He is listed at 6-5 and is a great red-zone target. He's got the mold of a Mike Williams, but he doesn't have much hype because of how poorly Florida State did this year. He also doesn't have overwhelming speed as he ran a 4.68, so he will get overlooked because of that.
Round 4 – Jamarco Jones; OT – Ohio State– The Bears have two 4th round pick. The should take Jones with one of them. Jones has now been a 2-year starter under Urban Meyer's offense. He has great length for the tackle position standing at 6'5. Said to have Orlando Pace potential and could be a huge bargain in middle rounds.
Round 5 – Tyrell Crosby; OT – Oregon– Crosby could be a good rotational tackle. Crosby didn't allow a hit or sack on Justin Herbert (Oregon QB) in the first five games. He also is good in the running game. Oregon has had a great running game the past four years he's been there.
Round 6 – Kurt Benkert; QB – Virginia– Benkert is not drafted to replace Mitch. Benkert can be a quality backup QB. It is important to draft him because it helps to have depth at the QB position. The Eagles didn't miss too much of a step with Nick Foles in there after Wentz tore his ACL because Foles is a quality QB. We might need Benkert incase something happens to Mitch when we are fighting for a playoff spot. Benkert has above-average arm strength and good deep ball accuracy. He needs to work on footwork and going through his progressions faster.
Round 7 – Troy Fumagalli; TE – Wisconsin– Troy was almost all of Wisconsin's offense last year. He is a good route runner, good hands and is a good pass catching TE. He could be great to pair with Shaheen. Those two could be the next Gronk and Bennett duo, two former teammates with New England.
If the Chicago Bears are able to accomplish even half of these things they might be able to be a playoff team but they can definitely improve from 5-11 to 8-8. The ceiling for this team, record-wise, would be 10-6.