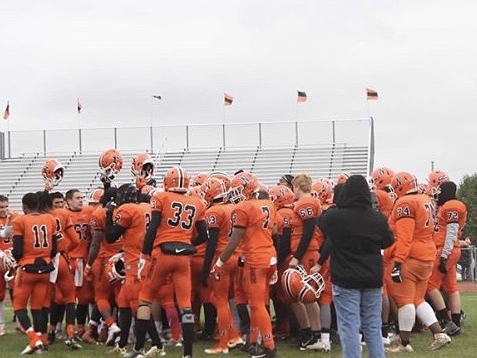 The Ironmen finished their season with a 14-13 lost against Mt. Carmel on Saturday, November 4. Despite their loss, this year marked the 22nd consecutive year that Normal Community High School has made the IHSA playoffs.
Going into the game, defensive coach Mr. Bryan Thomas said, "If you look at [the Iron football team] on paper, potentially, they're as good as any other team in the State. It gives us that thought that this is something that can happen. I don't think it's pressure. I think you go give it your all and see what happens."
During Thomas's 21 years as football coach at Normal Community, the team has gone to State twice, winning in 2006 after finishing as the runner-up in 2005.
As the football team prepared for their second game in the IHSA Playoffs this season, the coaches and athletes rewatched tape from previous football games and videos of their upcoming opponent – the Mt. Carmel Caravan. 
Quarterback, Daylen Boddie (11) knew that the playoffs from then on would be difficult for the Iron.
"On a scale of 1-10, it'll probably be an 8 because every team sees that we're 9-0 and they want to come at us with all they have. But I'm very confident that our team will keep our undefeated streak," Boddie said before the game.
But confidence would not be enough, the Ironmen lost as a result of a blocked extra point.
Coach Thomas has realized that not all the teams he has coached have been the same. Although this team had the potential to win State, they were not the same as the team that won in 2006.
"Young men are made up of many different things, the culture of the team has changed, there are a lot more minority players today than we had 10 years ago. This team is bigger and this team is more athletic but as a whole – this team may not be as mature as the team that won the State Championship. This team, we need to be hands-on a little bit
Despite the number of athletes on the football team, the players and coaches all saw each other as one big family.
"Our relationship with each other is very strong. We've all known each other for a very long time," Boddie said.
As a coach and a mentor, Coach Thomas reminded the boys to play each game as if it was their last so that they wouldn't have any regrets after the game. "I wish I would have…I could have…I should have. No. Leave it on the field and get it done that day. So at least win, lose or draw, you know that you did your best."
Winning the State Championship would have been a tremendous achievement for these football players, especially for the seniors – some of which who have played their final down of organized football. After mentoring these seniors for the past 4 years, Thomas was not ready to say goodbye.
"That last loss, that's always very emotional for me with the seniors. I know that with my sophomores and juniors, they'll be back. But for my seniors, I know that for most of them, it's the last time they'll ever play football again," Thomas said.
"We have a family relationship. There's no doubt about it. We've been together for so long. We start this thing in January, after Christmas break. By June, we're together almost every day. You're gonna miss 'em. You're gonna miss the stories and the funny things they say and do."
After their win, Mt. Carmel is set to play against East St. Louis on November 11 at 5 pm in the quarterfinals in the IHSA Playoffs.