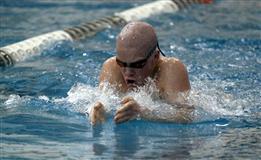 Senior Lance Bergmann has swum for the Ironmen all four years, for three of those years, Bergmann has represented the school at the IHSA State Swimming and Diving competition in the 100-yard breaststroke.
Bergmann holds the school record in the 100-yard breaststroke with a time of 58.50, which he set on February 22nd, 2013 at State. This time was faster than what he swam just a week prior at the sectional meet which was at 58.63. The 58.50 shattered his old record of 1:00.15 that he set his sophomore year, which was set in 1989.
All athletes have an inspiration and Bergmann's is Eric Shanteau. Shanteau is an Olympic swimmer who found out just two weeks before the 2008 trials that he has testicular cancer but decided to not get the treatments until after the Beijing games were over. Shanteau is a breaststroker like Bergmann.
Athletes like Bergmann really try to put themselves out there so college coaches will see their talent. Going to state and breaking a school record can help you grab their attention. Bergmann has talked to coaches at UIC (University of Chicago), Purdue, University of Indiana, and Tennessee.
Bergmann hopes to make the NCAAs in college. This competition is much like a state swim meet where you have to get a certain time in order to swim at the meet. Since he's been a swimmer for a long time, Bergmann would like to pursue a career in being a swim coach to share his knowledge on the sport.
When commenting on what he will miss most about high school swimming, Bergmann said, "Mostly, I will miss the closeness we all feel at the end of the season. I've built some great relationships that I will cherish for a long time."