Ironmen outscore Danville in round one of playoffs
The Ironmen (24-6) added an addition to their current 20 game-winning streak by beating the Danville Vikings, 63-40 in runaway victory for the unstoppable Ironmen This win will put the Iron in the final regional round against our crosstown rival Normal West. The Ironmen came in as the one seed in their conference and ninth in class 4A as Danville came in last in the region at the number four position.
As the first quarter began, Tyler Seibring (10) was on a hot streak, draining three 3-point shots in the first few minutes of the quarter. Another series of shots sunk by Alex Peacock sent the Ironmen on a 16-2 lead. The Seibring brothers put up a combined 18 points as the Iron led 33-12 during halftime. Throughout the game, the Iron relied on great passes outside and inside the lane to set key players like Alex Peacock (10), Tyler Seibring (10), and Trevor Seibring (12) for easy layups in the paint. The stands for Normal were nearly packed and the fans were ecstatic throughout the game. Trevor Seibring scored an outstanding 24 points and received 8 rebounds.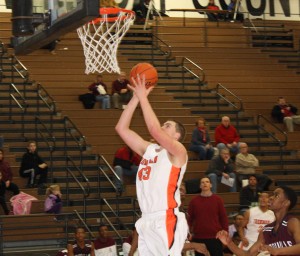 According to an interview with Trevor Seibring and the Pantagraph, when asked how he thought he did performance-wise Trevor said, "It's nice hitting from two different spots. They didn't know where to concentrate their defense."
"Our guards did a good job getting Tyler and Trevor the ball where they could catch and score," said NCHS coach Dave Witzig. "They were packed in a zone, we were able to knock down some shots and they had to chase us the rest of the game."
About the Writer
Nick Tomaski, Sports Desk
Nick Tomaski was born in St. Joseph hospital in Normal, IL. He attended Fairview Elementary School. When he was done with elementary school, he moved to...