Intercity swimming and diving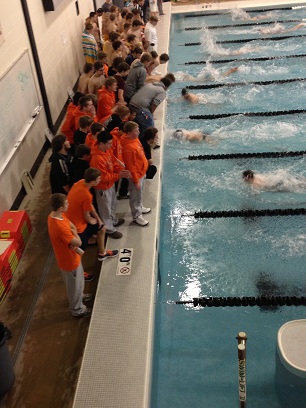 Five teams came together at Normal Community West High School to compete for the Intercity swim title on Tuesday January 22nd at 5:00 PM.  The teams included: West, U-High, Central Catholic, NCHS, and Bloomington. West came out on top with a score of 563, but the Ironmen placed third with 466 points.
The Ironmen started off strong with the help of the 200-yard medley relay placing second overall with a time of 1:43.94. Morgan Bishop (11), Lance Bergmann (12), Erik Pinter (12), and Andrew Domkuski (12) were the four swimmers that posted this fast time.
Shortly after this relay, the 200-yard freestyle took place. Both varsity swimmers for the Ironmen placed top-6 in this event. Placing fourth was Pinter (12) with a time of 1:51.73. Freshman, Ben Ryan,went 1:53.69 and placed sixth overall.
The only Normal Community swimmer who placed in the 200-yard IM was Bergmann (12), who took fourth clocking in at 2:03.89.
In the 50-yard freestyle, Domkuski (12) placed fourth for the Ironmen with a time of 24.20.
Junior diver, Brian Davis placed third overall for the Ironmen. Davis (11) said, "I hope to place second or third at Sectionals and will be working on all of my dives and fixing the small things."
100-yard butterfly took place shortly after diving. The only placer for this event was Matthew Staver (9) with a time of 1:00.37.
Pinter (12) and Ryan (9) who both placed in the 200-yard freestyle came back to place in the 500-yard freestyle. Pinter came in with a 4:58.73 and placed third. Ryan placed fifth with a time of 5:00.82.
The 200-yard freestyle relay placed fifth overall. This relay included Staver (9), Bishop (11), Matt Nicklas (10), and Miles Logan (11). Their time was a 1:39.64.
Shortly after getting out of the water for the freestyle relay, Bishop (11) came back to swim the 100-yard backstroke. This was an extremely close race between Bishop and the Normal West swimmer. Bishop clocked in at 59.19 placing second, while the West swimmer who placed third touched at 59.20. This time is a season best for Bishop.
The 100-yard breaststroke was an event that everybody expected Bergmann (12) to win. He holds the school record and has had it since his sophomore year. He had won the previous year and also had hopes in defending his title. Bergmann did, come out on top yet again. He was the only Intercity champion for the Ironmen with a time of 1:02.11. Bergmann said, "For sectionals, I hope to drop to a 58 which is in reach because I haven't rested since last year's state."
The 400-yard freestyle relay consisted of Pinter (12) Domkuski (12) Bergmann (12), and Ryan (9). They placed fourth overall with a time of 3:29.11.
All in all, the meet was a successful one for the Ironmen. Intercity takes place during the peak of their training. The whole team is swimming doubles with morning practices on Tuesday, Wednesday, and Thursday and practices everyday after school. The swimmers and divers were happy with their results and are all hoping to drop time for their end of the season meets.
About the Contributor
Alexandra Marable, Editor in Chief
Alexandra Marable is a senior at Normal Community High School. She has been involved with the paper for two years now. Last year, she was the Associate...